January 5, 2022
Ella's Kitchen
January is the beginning of a new year, a time to look forward. It is also a time to look back.
Below, you will find some of my favorite past January recipes. May you all have a blessed year.
Ella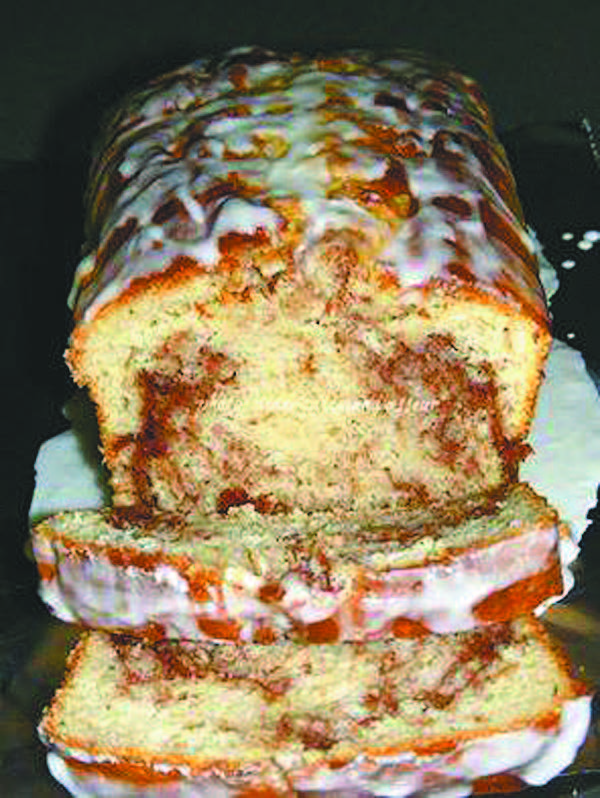 Breakfast Cinnamon Loaf
SWIRL:
2 cups all-purpose flour
1 tablespoon baking powder
1/2 teaspoon salt
1/2 cup sugar
1 egg, room temperature
1 cup milk
2 teaspoons vanilla extract
1/3 cup plain Greek yogurt, or sour cream
GLAZE:
1/3 cup sugar 1/2 cup powdered sugar
2 teaspoons cinnamon 2 – 3 teaspoons cream or milk
2 tablespoons butter, melted and (as needed for consistency) cooled slightly (can use water instead)
---
Preheat oven to 350 F. Butter or spray a glass loaf pan. If using a metal pan, you might want to increase heat to 375 F. In a small bowl, whisk together the flour, baking powder, salt, and sugar. Set aside. In a large bowl, whisk together the egg, milk, vanilla, and yogurt or sour cream. Add the flour mixture to the egg mixture, stirring with a spoon just until combined.
Pour into the prepared loaf pan. In a small bowl, stir the Swirl ingredients together. Drop by teaspoonfuls onto the top of the bread; then use a knife to swirl it a couple of times into the batter. (Don't over mix it).
Bake for 45-50 minutes or until the center tests done with a toothpick. Remove from the oven and cool for 15 minutes in the pan on a wire rack.
Remove bread from the pan and cool completely on the rack.
Make the Glaze by whisking the ingredients together in a small bowl until smooth, adding a dab of milk at a time until a good drizzling consistency is reached. When the bread is completely cool, drizzle the glaze over the top.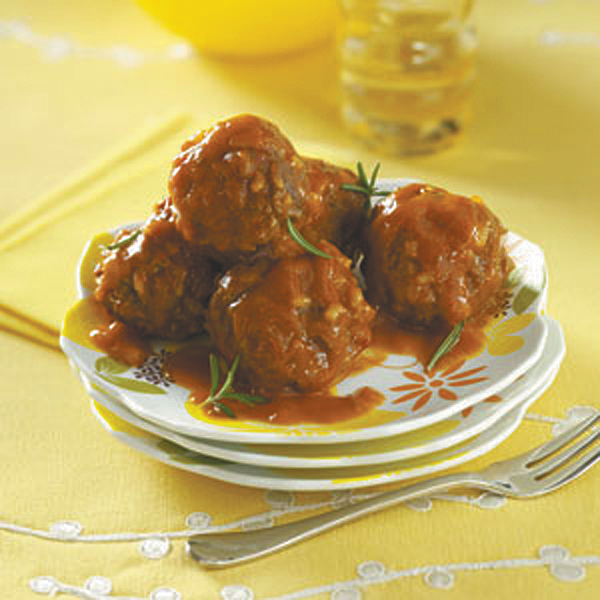 Porcupines
1/2 lb. ground beef
1/4 cup uncooked rice
1/4 cup milk or water
2 tablespoons chopped onion
1/2 teaspoon salt
1/4 teaspoon celery salt
1/8 teaspoon garlic salt
dash of pepper
1 can (8 oz.) tomato sauce
1/2 cup water
1-1/2 teaspoon Worcestershire sauce
1 tablespoon shortening or drippings
---
Mix beef, rice, milk, onion and seasonings. Form into 4 medium balls. Fry in melted shortening, turning frequently, until light brown (but nor crusty) on all sides.Add tomato sauce, water and Worcestershire sauce. Mix well. Cover; simmer 45 minutes over low heat. Add a small amount of additional water if liquid cooks down too much. 2 servings.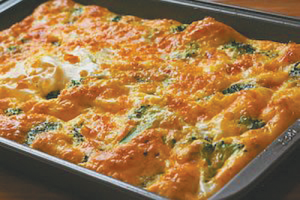 Easy Broccoli Casserole
prep time 10 min / cook time 12 min
8 servings
2 (12 oz.) packages fresh broccoli florets
1/4 Cup chicken broth
1 (10 1/2 oz.) can cream of mushroom soup, undiluted
1 (7 oz.) jar roasted red bell peppers, drained and chopped
1/2 Cup (2 oz.) shredded sharp Cheddar cheese
1/4 Cup mayonnaise 1 tsp. garlic powder
1 1/2 tsp. lemon juice 1/2 tsp. black pepper
2 Tbls. Italian-seasoned breadcrumbs
---
Combine broccoli and broth in a lightly greased 2-quart baking dish. Cover tightly with heavy-duty plastic wrap and microwave on HIGH 7 minutes. Combine soup and next 6 ingredients in a medium bowl; stir well. Spoon over cooked broccoli. Sprinkle with the breadcrumbs. Recover with plastic wrap and microwave on HIGH 4 to 5 minutes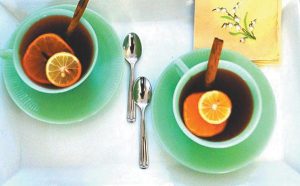 Mulled Cranberry Drink
prep time 5 min / cook time 10 min
10 Cups
1 (48-oz.) bottle cranberry juice
3 Cups apple juice
3 Cups orange juice
1/2 cup maple syrup
1 1/2 tsp. ground cinnamon
3/4 tsp. ground cloves
3/4 tsp. ground nutmeg
1 orange sliced
---
Bring first 7 ingredients to a boil in a Dutch oven. Remove from heat; ladle into individual mugs, or transfer to a slow cooker to keep warm.
Add orange slices just before serving. Garnish with cinnamon sticks, if desired.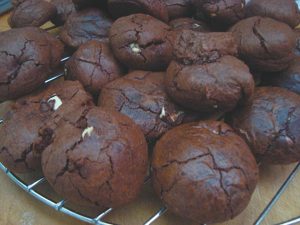 Chocolate-Cherry Cookies
prep time 12 min / cook time 14 min per batch
about 2 1/2 doz
1 box cake mix, devil's food
1/4 Cup water
1 large egg, lightly beaten
1/4 Cup butter, melted
1 (5 oz.) package dried cherries, chopped
2 Cups white chocolate chips
1/3 Cup chopped pistachios (optional)
---
Preheat oven to 350 degrees.
Beat first 4 ingredients at medium speed of an electric mixer until smooth. Fold in cherries, chips and pistachios. Drop dough by heaping teaspoonfuls, 2 " apart, on lightly greased cookie sheets. Bake at 350 for 14 minutes or until set. Remove to wire racks to cool.
[Ella can be contacted at ellaweeza@yahoo.com or Ella at 50+ Lifestyles, 804 W Lombard Street, Davenport, IA, 52804]
[Ella can be contacted at publisher@50pluslife.com or Ella – 50+ Lifestyles, P. O. Box 2125, Davenport, IA 52809]