June 1, 2022
Taking My Own Advice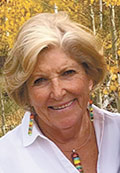 By Mary Schricker Gemberling
"Advice is one of those things it is far more blessed to give than to receive" ……………Carolyn Wells
While recovering from a recent back surgery I am organizing the boxes I packed away last fall during the somewhat quick sale of our home. I came across a box of articles I had written during my days as a Seniors Real Estate Specialist. Many of them dealt with advice about downsizing and facing the inevitable changes that come with aging. It occurred to me as I read them that I am now the age of my then targeted audience some twenty years ago when I began writing about the aging of America. It seems my words might have come back to haunt me!
I began to read an article from July, 2004 entitled To Move or Not to Move……That is the Question? The words "Are you still able to maintain your home, or is it coming increasingly difficult to keep up with the regular maintenance as well as seasonal chores" struck a chord with me. I do remember discussing this with many of my clients while trying to ease the transition of leaving their home and finding a new more suitable one. This is the very issue Gary and I had discussed, but like many seniors we were somewhat in denial. We both knew the day would come when we just couldn't keep up with our multi-level home on ten acres. We had begun to hire out some of the more difficult jobs but still sometimes felt overwhelmed. Keeping up with the yard and gardens was getting to be too much for me but it was such a labor of love.
As I continued to skim through the articles, I stopped again with another article I wrote in April 2005 entitled Take Advantage of the upbeat housing market. Even though we loved our log home and hesitated selling, we also knew that the present market was certainly upbeat and in any other housing market the unique qualities of our property might make it a more difficult sell. So we decided to give it a try. We called a realtor, listed our property and by July it was sold. The bonus was the buyer made an additional offer to purchase all of our furniture and farm implements. So where were we going? We hadn't really discussed this much as we were waiting until we had an acceptable offer on our house. All we knew at this point was we wanted to remain snowbirds and relocate someplace in the Midwest for the remaining months. We decided to just go to Florida and spend the winter discussing our options. Little did we know the decision would be altered by unforeseen circumstances.
On January 22 after spending the morning learning how to play bridge, I got up from my chair and twisted my back. Since I had never had back issues I didn't really think much of it. By evening, however I was unable to walk on my own. A visit to the Prompt Care diagnosed it as a sciatica issue that time and drugs would take care of. After several weeks of various treatments and prescribed pain killers it was determined that I had a slipped disc that only surgery could remedy. After consulting with the Neurologist at our hospital here in central Illinois we cut our Florida winter short, and returned for the needed surgery.
Now the plot thickens; Gary was already scheduled to have a similar surgery in mid April to repair an injury that had occurred in July of last year. I was a month into recovery when Gary had his surgery. Now what are the odds that both of us, who are otherwise pretty healthy, would have the exact same surgery within weeks of each other! Yesterday Gary went back to the doctor for his two week checkup and I for my six week follow up. We both received gold stars on our recovery and are feeling better every day.
So where did we decide to go next? We knew we wanted a low maintenance property that would accommodate us as we aged, as in the paraphrased words of my April, 2007 article entitled 'Home takes on new meaning.'
Our home must speak to leisure, comfort, quality and convenience and be adaptable to change as we age…it must be a ranch style condo or small single family home with large open spaces that can be transitional. Main floor laundry and master bath suites along with sun rooms or screened porches are a must. The living space should be designed for aging in place with widened doorways and hard surface flooring throughout.
Since we were torn between leaving our friends and activities in the central Illinois area and moving closer to our children and grandchildren in Iowa, we decided to find a small senior friendly property in each area. We have found a condo in Normal, Illinois that meets our needs. We are in the process of getting it furnished which is no easy task in this post-covid world. We have yet to find our second property in the Quad Cities, but now that our surgeries are behind us and we can travel, we will find what we are looking for.
So what have I learned from this string of events? That life can certainly throw some curve balls when we least expect them. That I would remember the advice that I so often shared with my senior clients some twenty years ago much less ever need it. And lastly who knew that someday I would even be 'This Old'!
"We must be willing to let go of the life we planned so as to have the life that is waiting for us." ………….Joseph Campbell
Mary, a former educator and Seniors Real Estate Specialist is the author of four books: The West End Kid, A Labor of Love; My Personal Journey through the World of Caregiving, Hotel Blackhawk; A Century of Elegance, and Ebenezer United Methodist Church: One hundred fifty years of Resiliency.
Filed Under: News
Trackback URL: https://www.50pluslife.com/2022/06/01/taking-my-own-advice/trackback/