July 1, 2022
Ella's Kitchen
July is a great month for salads and sandwiches. Living is easy. You are boss of your kitchen so experiment and have fun. The possibilities for either are endless, just use your imagination and what you have on hand. Make mealtime easy and enjoy the month!
-Ella
[Ella can be contacted at publisher@50pluslife.com or Ella – 50+ Lifestyles, P. O. Box 2125, Davenport, IA 52809]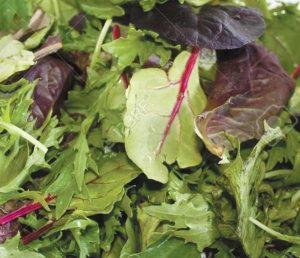 Salads
Remember when salads were nothing more than iceberg lettuce, tomato, a little carrot and celery? Maybe a cucumber, onion or radish added to it? Those days are long gone.
Salad base or greens now can consist of various types of Lettuce, Romain, Radicchio, Kale, Arugula, Mach (lamb's lettuce or corn salad), Spinach, Beet Greens, Endive, Watercress. I have even added the leafy part of celery to the bed of greens. Lettuce comes in Red Leaf, Green Leaf, Oak Leaf, Curly, as well as the head of Iceberg Lettuce.
Tomatoes, cucumbers, onions and carrots are still often a mainstay for the salad, but there is so much more. Apples, strawberries, blueberries, raisins, cranberries, grapes, orange sections, kiwi, olives, even chopped pickle, avocado, walnuts, pecans, almonds are often used in various salads. If you want a Southwestern flair, add some black beans and whole kernel corn. Pasta can even be added.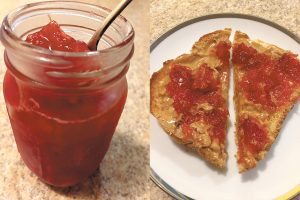 Rhubarb Pineapple Jam
4 cups rhubarb, cut in small pieces
1 to 1 1/2 cups sugar
1 small can crushed pineapple (do not drain)
1 package strawberry jello
---
Place cut rhubarb in a bowl and cover with sugar. Let stand over night. Now cook rhubarb in a sauce pan.
Boil for 10 – 12 minutes. Add crushed pineapple and boil 2 minutes longer. Add jello and mix well.
Put in jars and enjoy. Refrigerate the jam.
I made an open faced PB&J with some. It was really sweet, so next time I will cut sugar to 3/4 cup.
I also saw a can of diced mango at the store. I am going to experiment with that also.
This is a quick and easy way to make a jam,  but it doesn't have an extended shelf life like when you make jams and jellies using a canner.
Sandwiches
Try different breads and make your sandwiches grilled or toasted. Fill the sandwiches with your favorite meats or cheeses. Add some apples, avocado, bell peppers or mango for a different taste.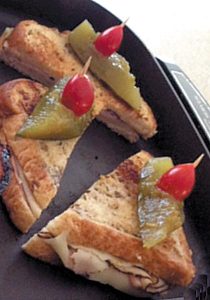 Chicken, Ham and Cheese on Light Rye
8 slices of light rye bread
4 slices pepper jack cheese
4 slices Swiss cheese
12 slices deli thin sliced chicken breast
12 slices deli thin sliced ham
1/3 cup softened butter seasoned with 2 teaspoons minced garlic and 2 teaspoons celery seed
---
Place a slice of the pepper jack cheese on four of the slices of bread. Put three slices of the chicken on top of the cheese. Now cover with a slice of Swiss cheese. Add three slices of the ham. Cover with the other slice of bread. Spread the seasoned butter on both sides of the sandwiches and grill.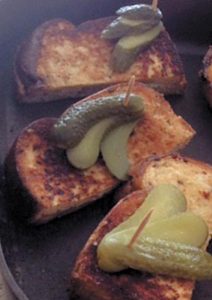 Grilled Cheese with a Seasoning Twist
8 slices white or light wheat bread
4 slices Swiss cheese
4 slices Muenster cheese
1 teaspoon poppyseed
1 teaspoon anise seed
1/4 cup butter, softened
1/4 cup mayonnaise
2 teaspoons minced garlic or minced onion
---
Place a slice of Swiss cheese on four of the slices bread. Sprinkle with 1/4 of the poppyseed and 1/4 of the anise seed. Place a slice of Muenster cheese on top. Now cover with the remaining slices of bread. Cream together the butter and mayo, stirring in the garlic. Coat both sides of the sandwiches with the butter/ mayo mixture. Grill on both sides until golden brown.
[Ella can be contacted at ellaweeza@yahoo.com or Ella at 50+ Lifestyles, 804 W Lombard Street, Davenport, IA, 52804]
Filed Under: Health & Wellness
Trackback URL: https://www.50pluslife.com/2022/07/01/ellas-kitchen-87/trackback/