August 1, 2022
Ella's Kitchen
Summer is rapidly coming to an end. There is produce from the garden. Use it in salads and side dishes. Get out the crockpot for easy "cook all day" meals. Make a quick and easy dessert. All good ideas to enjoy in August.
-Ella
[Ella can be contacted at publisher@50pluslife.com or Ella – 50+ Lifestyles, P. O. Box 2125, Davenport, IA 52809]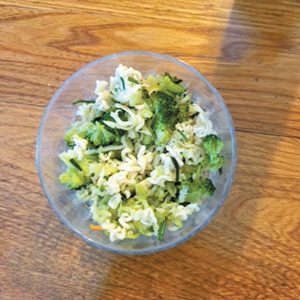 Summer Ramen Noodles
Serves 3-4
3 1/2 cups bag broccoli slaw
1/2 bunch green onions
1 pkg chickened ramen noodles (break up noodles)
2 1/2 Tablespoons cider vinegar
2 Tablespoons sugar
1/8 cup canola oil
1/8 cup sesame oil
1/2 cup sunflower seeds (optional
---
Put slaw, onions, and noodles into large bowl. Whisk together vinegar, sugar, oil and the 2 seasonings packs from noodles in separate bowl. Pour dressing over slaw mix and cover. Refrigerate for at least 24 hours.
(I couldn't find broccoli slaw so I used 2 1/2 cups cabbage slaw and 1 cup chopped up broccoli. I substituted chives for the green onions.) Broccoli slaw – broccoli slaw is a spin on the traditional coleslaw using thinly sliced broccoli stems or grated broccoli stems. Often you will find carrots in the mix, and it's coated in a mayo-based coleslaw dressing. Broccoli slaw has become so popular that the mix is sold pre-packaged in grocery stores. But if you can't find the pre-packaged mix, make your own like I did.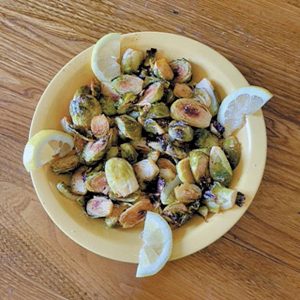 Roasted Brussels Sprouts
Serves 3-4
1 lb Brussels sprouts cut in half or quarters
1/4 cup lemon juice
1 1/2 Tablespoon avocado oil or olive oil
1/4 teaspoon ground black pepper
1/4 teaspoon smoked paprika
1/4 teaspoon garlic powder
1/4 teaspoon salt
---
Combine all ingredients in a Ziplock bag or airtight container. Toss to coat and distribute the marinade throughout the Brussels sprouts. Refrigerate overnight.
When ready to roast, preheat oven to 400 degrees F. Place Brussels on a baking sheet and bake for 15-20 minutes, stirring halfway through. Sprinkle with a coarse salt, such as sea salt or kosher salt.
If you don't have smoked paprika but have plain paprika, use that. Other spices that could be used are cumin, chili powder, tarragon, or white pepper.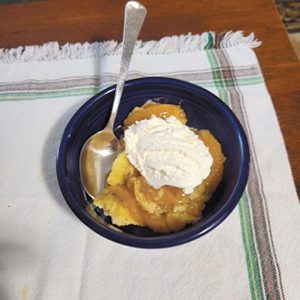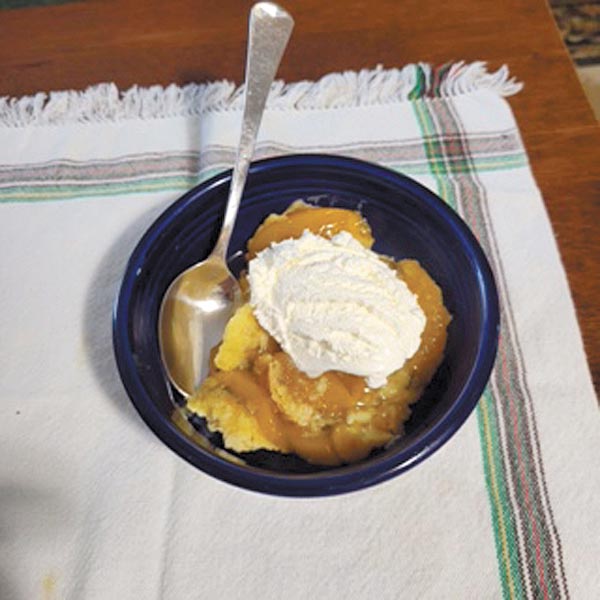 Peach Dump Cake
Serves 8-10
1 21-ounce can fruit pie filling (I used peach and grated a little fresh nutmeg over the filling)
1/2 (15.25 ounce) package yellow cake mix (I used what looked like half and resealed the remainder for another day)
1/4 cup buffer, melted
---
Preheat the oven to 350 degrees F (175 degrees C).
Spray or butter a 9×9-inch baking dish. Pour pie filling into the dish and even it out with a spoon.
Sprinkle cake mix evenly over peach pie filling and top with melted butter.
Bake in the preheated oven until the top starts to turn brown, about 35 minutes.
To make a larger cake, use two cans of pie filling and the entire box of cake mix. Then bake 5 to 7 minutes longer.
Cool cake 15 minutes before serving.
Add a scoop of ice cream or garnish with cool whip.
The dump cake is one of the great cooking mystery miracles. It shouldn't work and yet it does.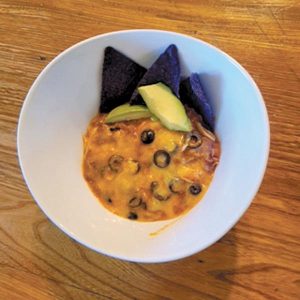 Crockpot Enchiladas
Will make 2 hearty servings or you can make 4 servings and put it over rice.
1 large boneless skinless raw chicken breast
10 oz. can red enchilada sauce; I used El Paso brand
5 corn tortillas
1 cup grated cheddar or Mexican mix cheese, divided
1/2 (3.8 oz.) can black olives, divided
1/2 cup sliced Kalamata olives, divided
---
Grease the bottom of a small crock pot with oil. Put the chicken breast and the enchilada sauce in the crock pot. Cook on HIGH for 4 hours or LOW for 6-8 hours. Shred the chicken with 2 forks right in the crock pot. Cut the tortillas into strips, add to chicken and sauce. Stir. Add 1/2 cup of cheese and half the olives into the sauce and chicken mixture. Stir again. Smooth the mixture so that it is even in the crockpot. Add the rest of the cheese and the olives on top. Cook on low for about 40-60 minutes longer or until cheese is melted and bubbly.
Top with sour cream, garnish with green onions (optional).
I didn't have corn tortillas, but I did have blue tortilla chips, so I substituted 12-15 chips for the tortillas. I like a little kick, so I added a teaspoon of the jalapeños. If you're not a fan of black olives, black beans would be a good substitute and/or leftover grilled kernel sweet corn.