September 1, 2022
Ella's Kitchen
Apologies! Last month the directions for Roasted Brussels Sprouts got preempted in the print edition with the ingredients and directions for the Crockpot Enchiladas.  Below you will find the correct recipe for Roasted Brussels Sprouts.
Garden growing season is coming to an end, so take advantage of the fresh fruits and vegetables.
-Ella
[Ella can be contacted at publisher@50pluslife.com or Ella – 50+ Lifestyles, P. O. Box 2125, Davenport, IA 52809]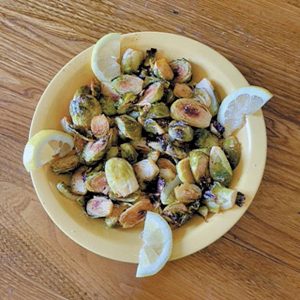 Roasted Brussels Sprouts
Serves 3-4
1 lb Brussels sprouts cut in half or quarters
1/4 cup lemon juice
1 1/2 Tablespoon avocado oil or olive oil
1/4 teaspoon ground black pepper
1/4 teaspoon smoked paprika
1/4 teaspoon garlic powder
1/4 teaspoon salt
---
Combine all ingredients in a Ziplock bag or airtight container. Toss to coat and distribute the marinade throughout the Brussels sprouts. Refrigerate overnight.
When ready to roast, preheat oven to 400 degrees F. Place Brussels on a baking sheet and bake for 15-20 minutes, stirring halfway through. Sprinkle with a coarse salt, such as sea salt or kosher salt.
If you don't have smoked paprika but have plain paprika, use that. Other spices that could be used are cumin, chili powder, tarragon, or white pepper.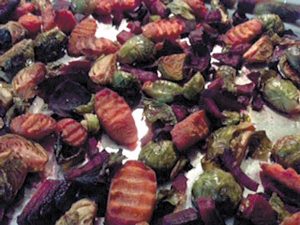 Roasted Brussels Sprouts and Root Vegetables
Follow the recipe for the Brussels sprouts but add any root vegetables. I added only carrots and beets to this recipe.
---
Helpful hints: I scrubbed the carrots rather than peeling them. I cut into bite size pieces discarding both end cuts. I also put them in the microwave for about 4 minutes to soften them a little. They could also be blanched or par boiled. Wear disposable gloves when cleaning, peeling and cutting the beets. This will keep you from getting really red hands. I cut into bite size pieces and heated them in the microwave for about 2 minutes. Turnips or parsnips could also be added. Or cauliflower if you want to. Onion slices or wedges could also be added, but don't put that in the marinade. Just place with vegetables when you arrange them on the baking sheet.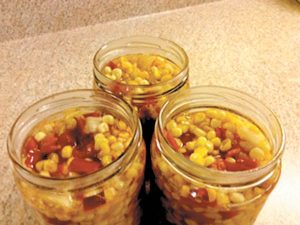 Old Style Corn Relish
1 Tablespoon olive or vegetable oil
3 1/2 cups diced red bell pepper (3 or 4 peppers)
1 Tablespoon kosher or sea salt
3 1/2 cups fresh or thawed frozen corn kernels
1 very large onion, diced
1 1/2 cups apple cider vinegar
1 cup sugar
3/4 teaspoon turmeric
---
Caramelize the peppers – Heat the oil in a large pot over medium heat. Add the peppers and sauté for about 12 minutes or until caramelized. You will see the peppers get soft and take on a brownish color. Brine boil the vegetables. Add the corn to the caramelized mixture. Cook for about 3 – 4 minutes longer until the corn is heated through. Turn hear off, add onion, stir well and cover pan. For the preserving liquid, or brine, combine vinegar, sugar and turmeric in a small saucepan and heat over medium heat. Bring to a boil, stirring occasionally until all of the sugar has dissolved.  This will make 6 half pint jars. Pack your corn mixture into your jars, leaving about 3/4 inch of headspace. Pour the preserving liquid in the jars. Leave about 1/4inch headspace, but make sure the corn is covered. Process in a hot water bath canner for 15 minutes, remove and let cool undisturbed for 12 hours before storing.
However, if you decide not to can this recipe you may store in refrigerator for up to 6 months.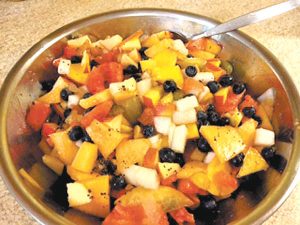 End of Season Fruit Salad
This is what I used, but add or subtract any fruits you want to use.
1 Nectarine, but into bite size pieces
1 Pear, cut into bite size pieces
1 cup graves, halved
2 cups watermelon, cubed
1 cup cantaloupe, cubed
1 cup honeydew melon, cubed
1 medium sized apple, cored and cut into bite size pieces
1 cup blueberries
Dressing for salad
1 Tablespoon lemon juice
1 Tablespoon red wine vinegar (apple cider vinegar can be substituted)
1 Tablespoon olive oil
2 Tablespoon
2 teaspoons poppyseed
Mix ingredients thoroughly, then pour over fruits.
---
Filed Under: Health & Wellness
Trackback URL: https://www.50pluslife.com/2022/09/01/ellas-kitchen-89/trackback/