September 1, 2022
God's Country
Part 1 of a two-part series about our recent trip to Colorado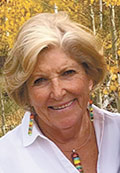 By Mary Schricker Gemberling
"You only live once, but if you do it right once is enough?"………….Mae West
Last month Gary and I, along with a granddaughter, great-grandson, and two lifelong friends flew to Colorado to visit family. This was our third trip to Colorado in recent years, but it was a new experience for our friends, Gus and Marilynn. With so much to see and so little time we decided to focus on a few day trips around the area.
The Last Dollar Road
What a topographical diverse country we live in! As we drive through the mountains of Colorado we are amazed at the varied rock formations; some almost as red as 'Dorothy's Shoes'; others a pale verdin green or dirty white. We wind around curvy roads climbing and then descending through miles and miles of rocky land without a building or car in sight. Off to the left is a small village of Naturist Colorado, population 451. With a school, church, and spattering of businesses, many vacant, I can't help but wonder what the inhabitants of this town do for a living?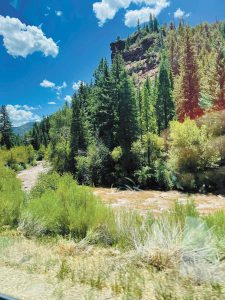 In a blink of an eye we are once again climbing up a bumpy, narrow road heading toward the infamous ski town of Telluride. Highway 145 is nicknamed the 'last dollar road' because if you try to build a house here it will be so costly you will spend your last dollar! But the views along this 22 mile road are stunning. The next town of Norwood at just over 7000' elevation appears to be thriving thanks to the outdoor enthusiasts who hike and backpack through the surrounding Uncompahgre National Forest. Pine trees flank the Species River as it meanders parallel to our road. We finally arrive in Telluride, a mountain village home to about 2,059. With a peak elevation of 13,150 feet it is a favorite among challenged skiers. The town is a former silver mining camp on the San Miguel River in the western San Juan Mountains. The first gold mining claim was made in the mountain above Telluride in 1875; the town was founded in 1878 as Columbia, but due to confusion with a California town of the same name, was renamed Telluride in 1887. Beyond the ski lifts, the town is now widely recognized as an all-season resort, with tourists visiting to enjoy mountain biking, hiking, river rafting, sightseeing and more. After a stop for a bit of retail therapy and an ice cream we left vowing to return when we had more time.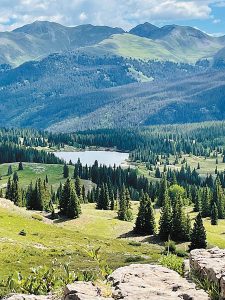 The Million Dollar Highway
Another scenic drive we enjoyed is highway 550 between Durango and Ouray. Colorado's 'Million Dollar Highway' is often considered one of the greatest drives in the world and a ride everyone should experience at least once in their lifetime. It provides some of best views imaginable. So why is it called the 'Million Dollar Highway'? Truth is, no one knows for sure. Some say that the gravel they used to pave the road contained gold and was worth millions. Others say it's because the road cost that much to make; or that the road weaved through gold mines; or just simply that the views are worth millions.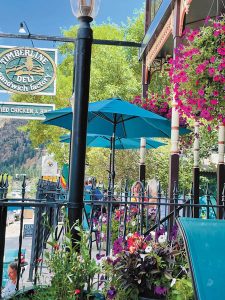 The road has a reputation of being a wildly dangerous drive with sheer drops and no guardrails. We managed, however, to drive the narrow, twolane road under normal, sunny conditions without being in danger. Our destination this particular day was lunch in Ouray, a beautiful mountain town donned the Switzerland of America! Originally established by miners seeking silver and gold in the surrounding mountains, the town at one time boasted more horse and mules than people. At the height of mining, Ouray had more than 30 active mines. The town was incorporated in October, 1876 and named after Chief Ouray of the Utes, a Native American tribe. By 1877 Ouray had grown to over 1000 in population and was named the county seat of the newly formed Ouray County. The entire Main Street is registered as a National Historic District with most of the buildings dating from the late nineteenth century. From the breathtaking scenery, and the charm of the village, to our delicious lunch I would say we had a 'million dollar day'!
Mary, a former educator and Senior's Real Estate Specialist is the author of four books, The West End Kid, A Labor of Love; My Personal Journey through the World of Caregiving, Hotel Blackhawk; A Century of Elegance, and Ebenezer United Methodist Church; 150 Years of Resiliency.