December 1, 2022
Just Saying…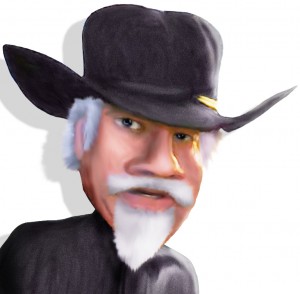 By Q.C. Jones
What's the Deal with Santa Claus and Me?
For those of you who are wondering, this chronicles my special relationship with the Fat Guy from up North. Allow me to recap a few family secrets.
First from an early age, I realized that Santa was a family friend. My maternal grandfather headed up the streets and alley department of my little hometown of Taylorville, Illinois. During one of my visits from my early childhood home in Texas, grandpa took me to visit Santa's temporary headquarters on the city square. During that visit, I heard the Jolly One not only refer to my grandfather by his nickname but share a few memories from the night before down at the Eagles Club. Further, Santa seemed to share my grandfather's appreciation for Phillies Blunt cigars. Santa knew my name and asked me a few questions which could only come by way of intimate family knowledge.
The next year, I had a similar encounter at my grandmother Ula's alteration shop. Her shop was located on the second floor of a building on Northwest Corner of the town square, directly above a place called George's Candy Shop.  George's dealt in homemade candies, sodas, malts and all kinds of other goodies. Considering Santa's perpetual sweet-tooth, one would have expected a meet and greet at the candy shop, but this one took place in a small shop in the floor above. Allow me to turn back the hands of time some 60-plus years and relate a hitherto untold secret.
I was on my way home from school and it was expected that I would stop by and check in with my grandma.  Typically, I would stay long enough to consume a bread sack full of cookies or run downstairs to grab a treat from the candy store. I would hang out with grandma and her helpers for a short while and then meander the remaining few blocks home.
Everything was completely routine. I opened the door and bolted up the twenty or so steps to the second floor of the building and then walked down a poorly lit hallway to her alteration shop. When I got to the door, it was closed. This meant someone was inside trying on clothes or getting the final touches of an alteration.  I knocked and made my presence known. Then something happened. The door was opened by you know who, none other than Santa.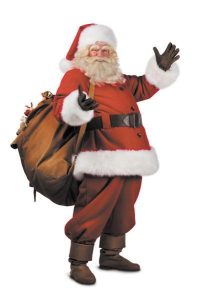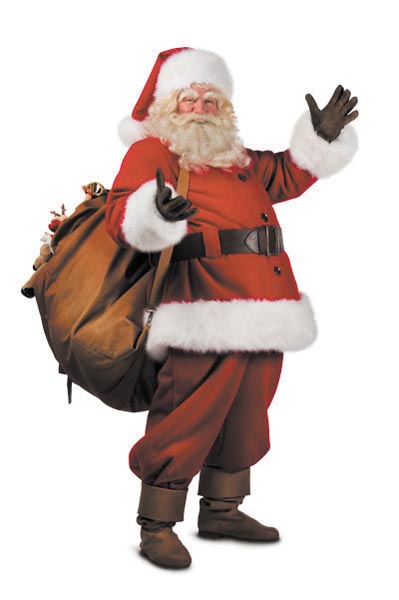 Santa had managed to rip out the seat of his famous red britches, which I suppose comes from being a human (or should I say elfin) cookie disposal machine. Because the kids were already milling around his little house across the street on lawn of the courthouse, our pudgy pal, Santa, had whisked over to her shop to beg for a quick repair job. Grandma was busy accessing the situation when I entered.
  Back in those days my grandmother was a master seamstress. With a wink and a nod, she instructed him to go down the hall to the men's room to pull off his red pantaloons, and I would bring them back to her for repair. Feeling like the luckiest six-year-old on the planet, I showed Santa the way.  Once in the men's room, Santa stripped down to his boxers and sent me back to my grandma with the ripped-out pants in hand. There I was, there was Santa. Without intending to do such, I saw the North Pole Special boxers Santa wears under his pants. I would describe them here, but I was sworn to a vow of secrecy. However, I can say I have never looked at a candy cane the same way.
Once back in the shop, Grandma fiddled with her stash of thread searching for the perfect red to match the cloth in Santa's suit. Once identified, the pants made a couple of trips through her ancient Singer sewing machine and quick as a wink, they were ready to greet kids. Grandma tossed me the pants and said to bring them back to "Mr. Claus." I picked up on the formality.
When I returned to the men's room, there was Santa pacing back and forth.  I said, "Mr. Claus, Sir, my grandma finished them and said they're good as new."
As the Jolly One wiggled into his red pants, he looked over at me, winked, and said, "Ula is a better seamstress than those darned elves back home."  Swollen with family pride, I made my way back to the shop and sat down across from grandma.  After a minute, Santa arrived and asked how much.  Santa meekly asking the question was surreal.
Grandma said, "It's on the house. Just remember QC at Christmas." Doing his trademark "Ho, Ho, Ho" the Jolly one nodded and shot down the hallway. Shouting over his shoulder Santa said, "Tell young QC to expect something special under the tree."
From that year forward (and despite my naughty ways), something extra cool is always under the tree.
Just Saying, Merry Christmas and Happy Hanukkah from Santa and Me
                           … QC Jones
Filed Under: Humor
Trackback URL: https://www.50pluslife.com/2022/12/01/just-saying-82/trackback/