January 9, 2023
Avoiding Winter Falls: Intention is Key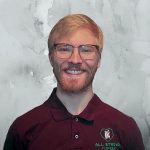 By Logan Anderson, BA, CPT, CIFT
Owner of All Strong Fitness LLC
With the winter weather in full force, I feel especially motivated to give some reminders to the wonderful Quad Citizens on different ways to approach the slippery walkways this time of year. Always a concern among older populations, avoiding winter time tumbles on ice and snow is of a top priority. This is for good reason, as falls can lead to serious injuries that can last for the rest of somebody's life. Let's take a look at different aspects of falls you might not have considered, and a couple of practical tips to help deal with the winter roads, pathways, and anywhere else you might find yourself walking.
As mentioned in the previous article, avoiding falls in the winter time especially is a crucial point of concern for seniors alike. One of the biggest reasons this should ALWAYS be on the mind of individuals is because of the severity of winter weather in general. If you slip and fall outside due to a slippery surface and fracture a bone in your body, this could be extremely problematic. This could be due to the inability to be able to get off the ground in general, with the already slippery surface making it worse. Add on the fact that the winter weather in the Quad Cities might be pushing below zero, frostbite can come quickly. This is not an attempt to scare anyone into never leaving their home during the winter, but rather to pose the severity of falls during the winter for older adults. The good news is that there are a few actionable steps to help decrease the risk of winter falls.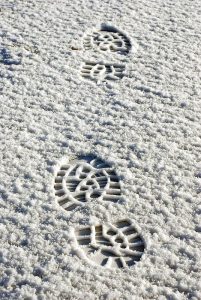 One of the best things that you can do, in my opinion, is to give yourself a LARGE amount of buffer time when getting ready to head out to do your errands. This could mean giving an extra 30 minutes to even an hour for yourself. This helps to reduce falls because you will not be rushing from your home, to your car, to the place you are pursuing. You are giving yourself time to "test" the grounds you will be walking on, and even plan a different route. Although this isn't always easy to do, a little bit of intentionality with your scheduling can go a long way. In addition to this, wearing shoes with good traction will help tremendously. Look for shoes that mimic a "tire tread," potentially finding ones specifically designed as non-slip. There are even some shoe covers you can put on your shoes, designed for ice and winter months. And lastly, as a senior fitness instructor, it is always an obligation of mine to advocate for individuals to participate in physical activity for a multitude of reasons. This is no different. Older adults who not only practice their balance, but also improve their strength, are already at a lower risk of falls. Not to mention the improved bone mineral density from working out, which decreases the chances of fractures during falls.
No matter how you swing it, the winter months add a bit of a burden to everyone's ambulation, especially that of seniors. By taking some focused steps towards decreasing falls, the winter months will be no problem for you. Welcome to the New Year!
Logan Anderson is the owner of All Strong Fitness LLC. For more information, please visit allstrongfitness.org or reach out to allstrongfitnessllc@gmail.com.
Filed Under: Health & Wellness
Trackback URL: https://www.50pluslife.com/2023/01/09/avoiding-winter-falls-intention-is-key/trackback/