January 9, 2023
Ella's Kitchen
Everything old is new again. So for this New Year's recipes I am reprinting a page from years gone by.
The holidays may be over but the January blahs don't need to set in! Gather a few friends together and have a European Gourmet event of appetizers and desserts. Assign the recipes to your friends. That way, you don't have to do all of the work.  Maybe some of your friends have been to the foreign countries. You could have a mini travelogue while you share the scrumptious food from other lands! Bon Voyage and Bon Appetit! Start with a Mulled Cranberry Cider an American version of an Old English drink. May you have a blessed 2023.
-Ella
[Ella can be contacted at publisher@50pluslife.com or Ella – 50+ Lifestyles, P. O. Box 2125, Davenport, IA 52809]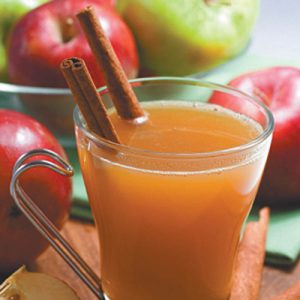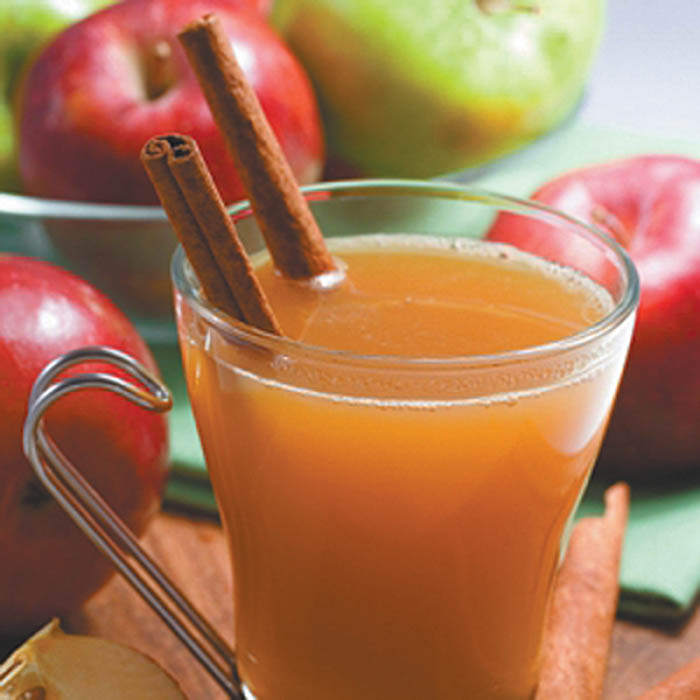 Mulled Cranberry Cider
… An American version of an Old English drink
1 small orange
8 cups cranberry-raspberry juice
1/4 cup packed brown sugar
6 inches stick cinnamon
1 tsp. cloves
Orange peel strips
---
Using a vegetable peeler, remove skin from orange. Squeeze juice from the orange and discard seeds and pulp. In a large saucepan combine orange juice, cranberry-raspberry drink and brown sugar. In an 8-inch square of cheesecloth combine orange peel, cinnamoon and cloves. Tie together and place into saucepan. Bring mixture to boiling, reduce heat. Cover and simmer for ten minutes. Remove and discard spice. Serve warm (in a crockpot works well).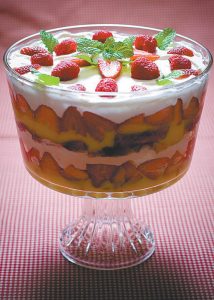 English Trifle
… from England
1/2 pkg. Ladyfingers or spongelike cookies, cut in half

1 pkg. instant lemon pudding, prepared according to directions

1 pkg. frozen strawberries, defrosted

1 cup sliced canned pears

1 large container Cool Whip
---
Line the bottom of a 1 quart bowl with Ladyfingers. Spread some lemon pudding, then strawberries, then Cool Whip, finally pears. Repeat layers until finished and top off with Cool Whip. Keep refrigerated until ready to serve.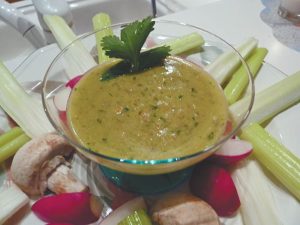 Hot Olive Dip
.. from Italy
1 pint heavy cream

3/4 cup butter

4-5 flat anchovy filets or 1 Tbs. anchovy paste

1 clove garlic, minced

1/3 cup chopped stuffed olives

1/4 cup sherry

1 3 oz. pkg. cream cheese
---
Bring cream to a boil and simmer, stirring frequently for about 20 minutes or until reduced to one cup. Place butter in a 1 quart flame proof dish or glass pot over low heat. When butter is melted, stir in anchovies, garlic, olives, cream cheese and cream. Bring to a simmer stirring constantly. Do not allow to boil. Serve warm if possible.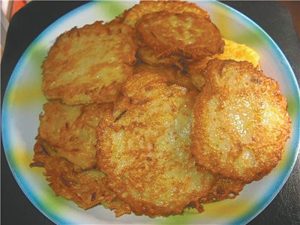 Kartoffelpuffer Karolle's Potato Pancakes
… from Germany
5 lbs. potatoes, finely grated and squeeze out moisture

3 eggs

salt & pepper to taste

2 heaping Tbs. flour

oil for frying
---
Mix potatoes with eggs, flour, salt, pepper and nutmeg. If mixture is not firm add more flour. Drop by teaspoonfuls into hot frying pan and fry until crisp and golden on both sides. Drain on paper towel. Serve hot with sour cream or apple sauce.
Cheese Fondue
… from Switzerland
2 cans Campbell's cheese soup

1/4 cup apple juice

1 loaf Italian bread

2 egg yolks

pinch of garlic
---
Open soup cans and empty into double boiler. Heat. Crack two eggs and separate. Place yolks in bowl and heat. Then add 3 Tbs. of cheese soup and stir. Now add the egg and rest of the cheese mix. Make sure to stir. Then add apple juice and stir. Cut bread into cubes and place on tray for dipping.
Chocolate Fondue
… from Switzerland
3 extra large Symphony Bars Milk Chocolate
---
Melt chocolate into fondue pot or serving bowl.
Dippers Ideas: Sliced apples (sprinkle with Fruit Fresh), Marshmallows, Pretzels, Mandarin Oranges, Sugar Cookies, Butter Cookies, Chips.