March 1, 2023
Ella's Kitchen
It's Spring! I decided to do some spring cleaning of my pantry and refrigerator. I had a container of beef stock that was nearing its expiration date and some dried spices that should be used. In the refrigerator I had carrots that were starting to wither and celery that was getting some brown spots. So I "created" my Field and Fowl Stew. The beef stock and vegetables for the field and chicken breasts that needed to be used for the fowl. Alter my recipe to what you have on hand that needs to be used.
Ella
[Ella can be contacted at publisher@50pluslife.com or Ella – 50+ Lifestyles, P. O. Box 2125, Davenport, IA 52809]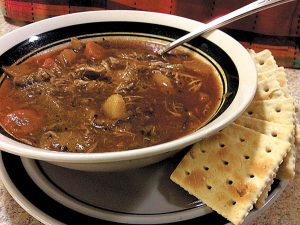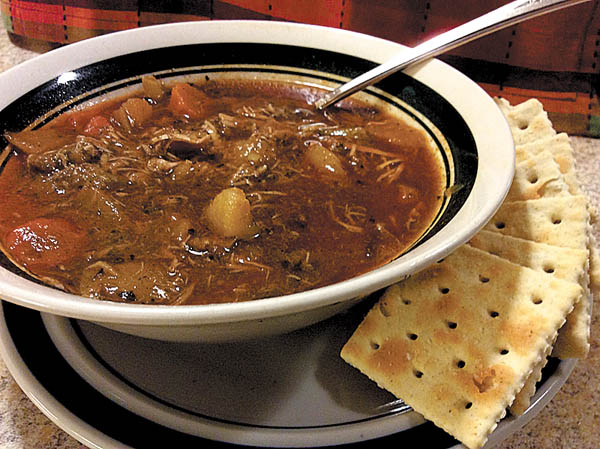 Field and Fowl Stew
1 pound chicken breasts
1 onion, diced**
1 Tablespoon minced garlic**
1 container beef stock
2 Tablespoons dried parsley
1 Tablespoon dried basil
1 Tablespoon dried oregano
3 – 4 cups cubed or diced potatoes
1 – 1/2 cups sliced celery, leaves included
1 – 2 cups sliced or chopped carrots
---
Place chicken breasts in crockpot. Add beef stock, sautéed onion and garlic, spices, potatoes, celery and carrots. Cook on high for 3 hours or low for 5 – 6 hours. Remove chicken from pot and shred using two forks to pull apart, or you can cut into bite-size pieces. Return chicken to pot and stir thoroughly. Serve and enjoy.
* Combined spices:
1 Tablespoon cumin
1 Tablespoon coriander
2 teaspoons oregano
2 teaspoons paprika
1 teaspoon chili powder
Combine all together and grind in a grinder to mix thoroughly. Label and store in airtight container with your other spices.
** Sauté garlic and onion in a little bit of oil. This softens and sweetens the onion. This is a good hint for any crockpot recipe calling for onions.
*** Basic recipe for making self-rising flour from all-purpose flour:
For every cup of all-purpose flour, add 1 1/2 teaspoons baking powder and 1/4 teaspoon fine salt
Whisk ingredients thoroughly in a large bowl. Label and store in airtight container in your pantry.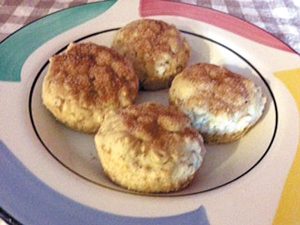 Snickerdoodle Mini Muffins
1 1/2 cups self-rising flour***
1 cup dry oatmeal
1/2 cup granulated sugar
1/2 teaspoon cream of tartar
4 Tablespoons butter, melted
1 large egg, slightly beaten
1 cup milk
1 teaspoon vanilla extract
1/3 cup granulated sugar
1 teaspoon cinnamon
2 Tablespoons butter, melted
---
Preheat oven to 400 degrees. In a large bowl combine flour, oatmeal, the 1/2 cup sugar and the cream of tartar.
In another large bowl thoroughly combine the vanilla, milk, egg and the 4 Tablespoons of butter. Slowly add the dry ingredients to the wet and mix well. Using a mini-muffin tin, fill each 2/3 of the way full. Bake for 12 – 14 minutes. While the muffins are baking, mix the sugar and cinnamon topping together. When the muffins are done lightly brush the tops with the melted butter. Then sprinkle with the cinnamon and sugar mix. Let cool and enjoy.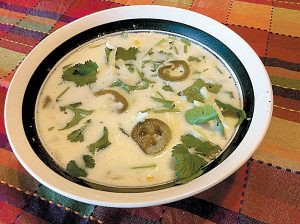 White Chicken Chili
1 pound chicken breasts
1 Tablespoon mild green chilies
2 Tablespoons combined spices*
1 onion, diced**
1 Tablespoon minced garlic**
32 ounces chicken broth, set 8 ounces aside
3 cans of Cannellini beans, rinsed and drained, set one can aside – great northern beans will work, but I prefer the Cannellini. They are larger, have a slightly different taste and texture.
1 package frozen corn
8 ounces of cream cheese
8 – 12 ounces shredded white cheese – I use Monterey Jack but Swiss could be used
1 cup fresh cilantro, chopped
1/2 cup mild jalapeños
---
Place chicken breasts in crockpot. Cover with broth, add green chilies, spices and sautéed garlic and onions. Set crockpot on high if cooking for 3 hours or on low if cooking 5 – 6 hours. Take reserved broth and 1 can of beans and purée them to make a creamy mixture. I just used a potato masher. At the end of the cooking time, remove chicken from pot and shred. Add back to the Poland add the puréed beans and cream cheese. Now stir in the rest of the beans, corn 1/2 the shredded cheese and 1/2 the cilantro. Heat through, about 20 minutes. Garnish with the remaining cheese, cilantro and jalapeños. Serve with tortilla chips.