May 31, 2023
Ella's Kitchen
June is the perfect month for patio or deck living. Chips and salsa are a quick and easy snack. How's the song go? "Summertime … and the livin' is easy." Enjoy your summer living!
Ella
[Ella can be contacted at publisher@50pluslife.com or Ella – 50+ Lifestyles, P. O. Box 2125, Davenport, IA 52809]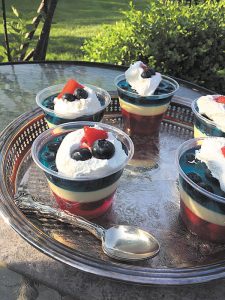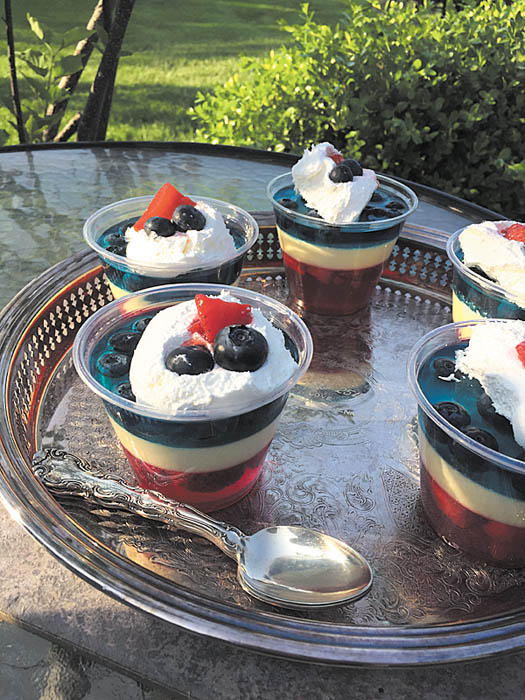 Red, White and Blue Gelatin Dessert
1 package (3 ounce) strawberry or red gelatin
1 package (3 ounce) lemon gelatin
1 package (3 ounce) berry blue gelatin (Hy-ee makes a blue gelatin)
1 cup cut-up strawberries
1 package cream cheese, softened
1 cup blueberries
Cool Whip and extra strawberries and blueberries for garnish
---
Prepare strawberry gelatin according to package directions, except use only 3/4 cup cold water. Stir in strawberries. Pour into 9 x 13 pan or into individual serving cups like I did. Refrigerate. After the red layer has completely set, prepare the next layer. Prepare the lemon Jell-O according to package instructions, except only use 3/4 cup cold water. Once the mixture has cooled, whip in the cream cheese. I use my electric mixer. When well blended, pour over the red gelatin. Refrigerate. When this is completely set, prepare the blue gelatin according to package instructions. When cool but not set, add the blueberries. Pour over the lemon/cream cheese layer. Refrigerate to set.
If you used the 9 x 13 pan, cut into squares and serve. Garnish with Cool Whip and strawberries and blueberries.

Black Bean Pico
2 cups diced tomatoes
2 cups mild white onion
1 can black beans, rinsed thoroughly
1 cup corn
1/2 diced bell peppers, optional
2 Tablespoons chopped cilantro or parsley
---
Thoroughly combine all of the ingredients. Serve with corn chips. Optional idea: Mix equal parts of black bean pico and store-bought avocado salsa together. Serve with corn chip, potato chips or crackers.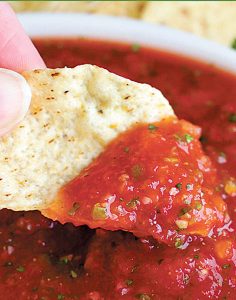 Pico de Gallo (also called Fresh Salsa)
Equal parts of chopped red tomatoes, white onion and cilantro
Sea salt
Lime
---
I usually do about 1/2 cup of the three main ingredients. A sprinkle of sea salt and 1/2 a lime squeezed over the salsa. Serve with Mexican corn chips. But if you are expecting a large group,  increase the amounts. Trivia: the colors of tomato red, onion white and cilantro green are the colors of the Mexican flag.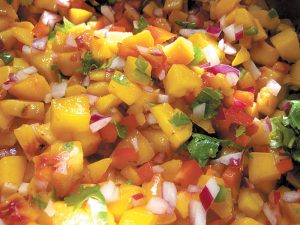 Peach Salsa
6 large peaches, pitted and chopped (I have made this using half peaches and half nectarines)
2/3 Cup orange marmalade
3 Tablespoons cider vinegar
1 Tablespoon sugar
1/4 Cup diced Bermuda onion
1 Tablespoon crystallize ginger
2 Tablespoons chopped parsley or cilantro (optional)
---
In medium bowl, mix all ingredients together. Cover and refrigerate until serving. Has a refrigerated shelf life of 4 to 5 days. Serve with corn chips or wafer crackers. Or use as a side for slide ham. I have found crystalized ginger in the spice section at supermarkets. I also found it in bulk at Blain's Farm and Fleet at a much lower price. The pieces are larger than I want, so I chop it smaller.