September 1, 2023
Ella's Kitchen
Growing season has come to an end and now we enjoy the bounty. How to use a surplus of zucchini, green tomatoes, apples, blueberries and peaches. Enjoy the fruits of your labor.
Ella
[Ella can be contacted at publisher@50pluslife.com or Ella – 50+ Lifestyles, P. O. Box 2125, Davenport, IA 52809]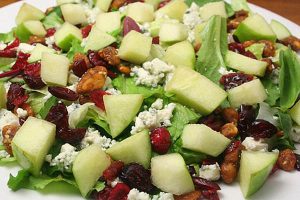 Apple Salad with Cinnamon Cider
2 large Granny Smith apples (or another tart salad apple) chopped
1/2 cup dried cranberries
2 cups chopped romaine lettuce and/or spinach leaves
1 large sweet onion, finely chopped
3/4 cup blue cheese crumbles
Combine items in mixing bowl. Coat with vinaigrette and serve.
---
Vinaigrette:
1/2 cup apple cider vinegar
1 teaspoon ground cinnamon
1/2 teaspoon ground nutmeg
1/2 teaspoon salt
2 Tablespoons fresh ground ginger
1/2 cup olive oil
1/2 cup orange juice
1 Tablespoon dark brown sugar
Whisk together all ingredients.

Blueberry Salsa
1 cup fresh blueberries, slightly mash about 1/2 of them
1/2 cup Smuckers seedless red raspberry jam (strawberry jam or raspberry jan with seeds can be used. Your personal preference.)
2–3 Tablespoons cider vinegar
1/4 cup finely chopped celery, I used the inside, more tender part
1 Tablespoon crystallized ginger
1 Tablespoon chopped fresh parsley
1 teaspoon dried cilantro
---
In a medium bowl, mix all ingredients together. Cover and refrigerate until serving. Serve with corn chip scoops, or other chips or crackers of your liking. Wedges of pita bread or flatbread would also be good. This is very sweet. I think it would be good over French toast or pancakes, too.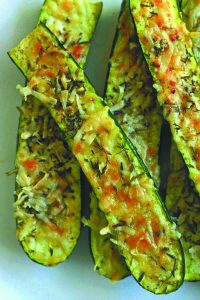 Zucchini Parmesan Boats
4 medium, fresh zucchini, sliced in half
1/2 cup fresh Parmesan cheese, grated
1–2 tablespoons fresh rosemary & thyme, minced
Smidge of olive oil
Salt & pepper to taste
---
Pre-heat oven to 350˚F, lightly brush both sides of the zucchini with olive oil and place on a foil-lined baking sheet. Mix cheese and herbs together in a small bowl and sprinkle over the zucchini along with salt and pepper to taste. Bake for 15 minutes and place under the broiler for the last 3–5 minutes until cheese is crispy and browned.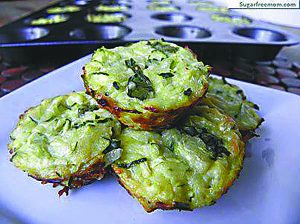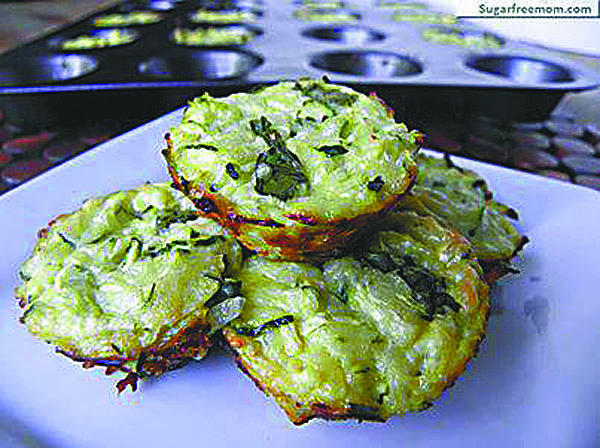 Mini Zucchini Cheese Bites
2 cups grated zucchini (about 1 medium)
1 egg
1/2 cup grated Parmesan cheese
Optional: 1/4 cup chopped cilantro, salt & pepper
---
Preheat oven to 400 degrees. Spray a mini muffin pan with nonstick cooking spray. In a bowl mix the zucchini, egg, cheese and cilantro. You do not have to add any salt or pepper since the Parmesan is salty enough. Evenly divide the mixture into the mini muffin pan filling to the top, packed down in each cup. Bake for 15–18 minutes until golden brown around the edges. If you don't have a mini muffin pan, use a regular muffin pan and bake 18–20 minutes.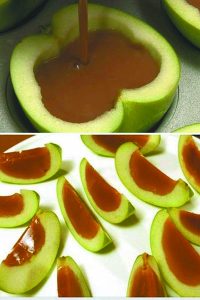 Carmel Apple Slices
3 Granny Smith apples halved and cored
1 (14 ounce) bag caramel candies
2 Tablespoons milk
---
Place unwrapped candies and milk in a microwavable bowl. Heat on high for about 2 minutes, stirring once during cooking time Place apple halves in a muffin tin to balance them. Then pour melted caramels in the center. Cool in refrigerator until set. Then slice the halves into wedges. Can garnish with powdered sugar or crushed nuts.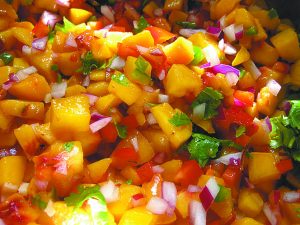 Peach Salsa
6 large peaches, peeled, pitted and chopped (I have made this using half peaches and half nectarines)
2/3 Cup orange marmalade
3 Tablespoons cider vinegar
1 Tablespoon sugar
1/4 Cup diced Bermuda onion
1 Tablespoon crystallized ginger
2 Tablespoons chopped parsley or cilantro (optional)
---
In a medium bowl, mix all ingredients together. Cover and refrigerate until serving. Has a refrigerated shelf life of 4 to 5 days.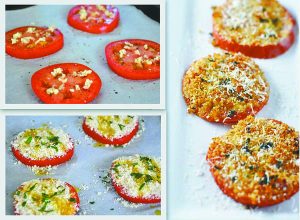 Cheesy Tomatoes
Slice your tomatoes and place on a baking sheet. Top with garlic, Parmesan, bread crumbs, salt and pepper. Bake at 425 for about 10 minutes. You can also put a thin slice of provolone or Swiss cheese on the tomato. (This would work for green tomatoes, too.)
Filed Under: Health & Wellness
Trackback URL: https://www.50pluslife.com/2023/09/01/ellas-kitchen-101/trackback/