November 1, 2023
Ella's Kitchen
It's November and everything is turkey. Do you have lots of turkey leftover after the big meal? Here are some ideas to use up that turkey. My children tired of turkey soup and turkey casseroles so one year about 40 years ago, they came up with turkey nachos. It is now one of our traditions.  Enjoy. And if you don't have enough turkey left over, just purchase some from the butcher (already roasted, of course!)
Ella
[Ella can be contacted at publisher@50pluslife.com or Ella – 50+ Lifestyles, P. O. Box 2125, Davenport, IA 52809]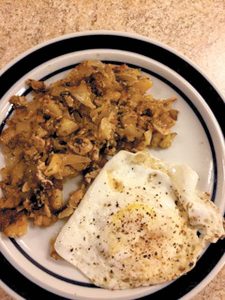 Crispy Brown Turkey Hash
1 cup chopped cooked turkey
1 cup chopped cooked potatoes (leftover mashed can be used)
1 onion, minced
1 Tablespoon minced parsley
1/2 cup milk
---
Mix all ingredients except the milk. Place a little butter or fat in a hot heavy skillet. When fat is very hot spread hash evenly in the skillet. The pan should be hot enough to brown the hash quickly, cook for 10 minutes. Add the milk and stir in. Cover, reduce heat and cook slowly until crisp. About 10 more minutes. Makes two generous servings.

Chef's Salad
1/2 head of lettuce
1/4 bunch of romaine
1/4 cup chopped green onion
1/4 cup slice celery
1/4 cup julienne strips of ham
1/4 cup julienne strips of turkey
1/2 cup julienne strips of Swiss cheese
1/4 cup mayonnaise
2 Tablespoons French dressing
1/4 cup ripe olives
1 hard cooked egg, sliced
---
Tear greens into bite sized pieces. Reserve a few of the julienne strips for garnish. Toss with the onion, celery, ham, turkey and cheese. Right before serving, toss with the dressings. Garnish with strips of turkey, ham, cheese, ripe olives and sliced egg.
Turkey Nachos
Corn chips
Salsa
Turkey
Shredded cheese
---
Place a layer of corn chips on a baking sheet. Spoon some salsa on each chip. Place pieces of turkey on the salsa. Sprinkle with shredded cheese. Place in oven and broil until cheese is bubbly.
Quick Turkey Curry
1/4 cup chopped onion
1 Tablespoon butter
1 10 1/2-oz. canof condensed cream of mushroom soup
1/4 cup milk
1 cup sour cream
1 teaspoon curry powder
1 cup cooked cubed turkey
---
Cook 1/4 cup chopped onion in one tablespoon butter. Add one 10 1/2 ounce can of condensed cream of mushroom soup and 1/4 cup milk. Heat and stir until smooth. Stir in 1 cup sour cream and 1 teaspoon curry powder. Add 1 cup cooked cubed turkey. Heat but do not boil. Serve over cooked rice and garnish with parsley, raisins and slivered almonds.