November 1, 2023
Hostess with the Mostest: Thanksgiving Edition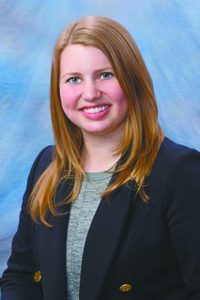 By Melissa Jaeger RD, LD
Hy-Vee Registered Dietician
(515) 695-3773     mjaeger@hy-vee.com
Hosting friends and family this Thanksgiving? Hosting can have its perks – HELLO, not having to drive in any snowy cold conditions – but it can certainly cause additional stress. While I can't help you clean your kitchen in preparation for your guests, I can help you navigate guest's food allergies, provide a few go-to tips to build your buffet with confidence, and even share a simple appetizer that will start the evening off with your guests' health in mind. Let's break down how you can be the hostess with the mostest this holiday season!
Before getting the party started, consider asking guests as they RSVP to inform you of any food allergies or sensitivities to make your gathering inclusive and fun for all! Then communicate which allergens guests should avoid if they plan to bring an appetizer, entrée, side or dessert to share. Last, but not least – if a guest plans to bring an allergen-friendly option to share, give them a gentle reminder to consider how they can avoid cross contamination by preparing their dish on clean surfaces and to use clean utensils and serving dishes in their home kitchen. Two top allergens that come to mind – especially during the holiday season – are gluten and dairy. Gluten – a protein found in wheat, barley, rye and a wheat-rye hybrid called triticale – can cause gastrointestinal discomfort or severe reactions in individuals with celiac disease or gluten intolerance. Hy-Vee has you covered with gluten-free mixes for classic Thanksgiving sides including stuffing – try Good Graces Gluten Free Herb Seasoned Vegetable Stuffing Mix – available in the HealthMarket. Dairy is another common allergen found in milk, cheese and ice cream. It's also commonly present in dessert items, so consider swapping your traditional whipped topping for So Delicious Dairy Free Cocowhip – available in our frozen department. Today there are so many amazingly delicious products available to make your and your guests' Thanksgiving inclusive and enjoyable for all.
Get ready to set the stage with your serving station layout! Having a layout in mind can be a timesaver and help you stay organized on the day of the event. Plus – the way you organize your buffet or serving station can help guests focus on their health goals. 
First comes fiber – Set up vegetable or fruit trays packed with fiber at the start of the serving line or directly next to where plates and utensils are stored to encourage guests to grab those items first. Next to your fiber-filled options place your protein-rich sides or main entrée. Protein and fiber help fill you up and keep you full longer. Last – place your carbohydrate-rich snacks and sides, thus allowing your guests to fill their plate with nutrient-dense and more filling options first. 
Rethink your drinks – While many guests may choose to celebrate with a cocktail, wine or beer, it's important to have non-alcoholic options available as well – especially water. Consider stocking a small beverage tub or cooler near the buffet/serving space filled with water, sparkling water or non-alcoholic beverage options for your friends to enjoy. Hydration is a key component to our overall health and well-being.
Focus on food safety – There is always that one guest who brings a dish to share but forgets the serving utensil or needs to reheat their dish in your oven. Plan ahead by making sure you have plenty of outlet space for any slow-cooker sides that need to remain heated, ice on hand to keep cold sides or appetizers temperature controlled, a meat thermometer, clean cutlery, serving utensils and more handy to make setting up your delicious eats a breeze while keeping food safety in mind! 
As guests arrive, having something available for them to snack on as the evening gets started is a perfect opportunity to sneak in a few more fruits or vegetables to the menu. If your guests are bringing a dish to share, consider encouraging someone to bring a fruit or veggie tray to help increase fiber-filled options at the party. You can also WOW them with our recipe for Avocado, Feta and Pomegranate Crostini, below. Avocados provide a source of nutrient-dense fats, filling fiber and a variety of vitamins and minerals to support your health and wellness goals. Pomegranate seeds (arils) pack a powerful antioxidant punch and are as delicious as they are nutritious!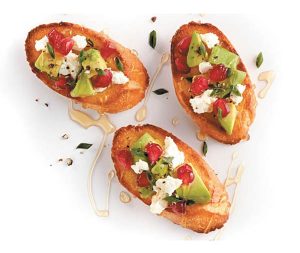 Avocado, Feta and
 

Pomegranate Crostini

Makes 30 servings, 1 crostini each

All you need:

1 Hy-Vee Bakery baguette, cut into ½-inch-thick slices
2 tbsp Hy-Vee Select olive oil
1 Hass avocado, halved, pitted, peeled and diced
1/4 cup pomegranate seeds
1/4 cup crumbled feta cheese
2 tbsp finely sliced chives, optional
Hy-Vee fresh ground black pepper, to taste
2 tbsp Hy-Vee honey, optional

All you do:
Preheat oven to 400 degrees. Brush bread slices with olive oil and place on a large rimmed baking pan. Toast until golden brown.

 

Top crostini with avocado, pomegranate seeds and feta. If desired, garnish with chives, black pepper, and a drizzle of honey just before serving.
Recipe source: https://www.hy-vee.com/recipes-ideas/recipes/avocado-feta-and-pomegranate-crostini 
Hy-Vee dietitians are always ready to help you navigate your nutrition goals. If you're ready to learn how a Hy-Vee dietitian can help you, schedule a complimentary Discovery Session today by contacting our Discovery Call Center via email nutritionservices@hy-vee.com or call (515) 695-3121.
This information is not intended as medical advice. Please consult a medical professional for individual advice.
Melissa Jaeger represents Hy-Vee as a nutrition expert promoting healthy eating throughout the community. She is a member of the Academy of Nutrition and Dietetics (formerly known as the American Dietetic Association). She can be reached at (515) 695-3773 or at mjaeger@hy-vee.com.
Filed Under: Family, Health & Wellness
Trackback URL: https://www.50pluslife.com/2023/11/01/hostess-with-the-mostest-thanksgiving-edition/trackback/