November 1, 2023
It's Time to Think About Winter Preparations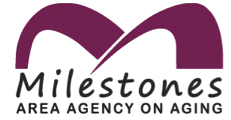 By Devin Hansen
Milestones Area Agency on Aging
It seems like summer just ended, but the snow and freezing temperatures will soon be here. Now is a great time to prepare for winter and all of the challenges that this
beautiful season brings with it. Here are some steps to take now before Jack Frost knocks at your door: 
Contact snow removal companies to get estimates on clearing your walks and driveway. Collect at least three bids and you'll be ready for the first snowfall.

 

Install a carbon monoxide detector to protect yourself from carbon monoxide poisoning which could be the result of a faulty furnace.

 

Speaking of furnaces, test it now. That way if it doesn't work, you have plenty of time to have it repaired or to contact your property manager.
Check to see if you qualify for energy assistance. Enrollment for the Low-income Home Energy Assistance Program (LIHEAP) began on October 1 for Iowan's aged 60 and older. LIHEAP is a grant program, so you do not have to repay the money and can be used to help pay for heating costs and energy-related emergency repairs, such as fixing a broken furnace.
Take fire-prevention steps. First, make sure you have a fire extinguisher readily available, preferably close to the kitchen. Also be sure that you have fresh batteries in your smoke detectors. Remember, keep space heaters away from curtains and never leave candles unattended.
Weatherize your windows and doors and prepare a winter-survival kit for your vehicle.

 

Purchase winter supplies such as salt for your walkways, and extra batteries for flashlights.

 

Be sure you have an ample supply of your prescriptions and any over-the-counter medications.

 

Get up to date on your vaccinations. Milestones encourages vaccinations to safekeep your wellness. For more ways that it pays to get vaccinated visit our website at www.milestonesaaa.org.
By preparing your home, car, and family now, you can enjoy the beauty of the winter season. We at Milestones are here to help. If you have any questions about the LIHEAP program, contact us at 855-410-6222. 
Milestones Iowa Area Agency on Aging promotes a variety of Wellness Programs dedicated to building healthy lifestyles for older adults through education, counseling, and a variety of fitness and wellness classes to help keep you healthy and independent. Want to Learn More?  Call Milestones at (855)-410-6222 or visit milestonesaaa.org. 
Filed Under: Community, Health & Wellness, News
Trackback URL: https://www.50pluslife.com/2023/11/01/its-time-to-think-about-winter-preparations/trackback/