July 30, 2009
Guest Editorial – Scarlet Sisters and Fibromyalgia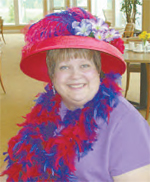 Submitted by Sharon Lacey
The Scarlet Sisters, a local chapter of the Red Hat Society, held its luncheon June 16th
in the Cornucopia Room at the Fountains located in Bettendorf, Iowa. Sharon Lacey, Her Royal Historian, was the hostess. The group is comprised of friends whose goal is to have fun, but they also share ideas about the daily management of (FM) fibromyalgia.
Sharon resides at the Fountains in an independent living apartment. Living there provides her with ample assistance in managing her symptoms of FM. She is able to participate in various gentle exercise programs, numerous activities and, of course, socializing.
Queen Mother Laura Geist, from Pleasant Valley, IA, attends warmwater exercise and physical therapy.
Scribe Mary Aubry, from Taylor Ridge, IL, spends her time horseback riding for exercise and relaxation.
Kari Cline from Bettendorf, IA says one must educate one's body to her personal needs and limits. One must prioritize what is important to accomplish on a daily basis. Discouragement can result if one is unable to complete certain tasks.
Rena Jo Posey from Bettendorf, IA states that depression is a significant symptom of FM. Keeping thoughts upbeat and being involved with a personal plan of care is extremely beneficial.
Contessa of the Red Letters Carla Mathesen from Moline, IL states that the body needs sleep in order to recover from the day's events, so a prescribed sleep aid may be necessary.
The Scarlet Sisters say that having fun and being involved will help through the difficult and painful times. They also think a very useful tool in the management of FM is to attend an FM support group. One such group, Fibro Friends, meets the 1st and 3rd Monday of each month at Genesis at Maplecrest in Bettendorf.
Other Scarlet Sisters that meet at Fibro Friends are: Helen Shoulders and Deb Ritter of Bettendorf, IA; Jill Dean and Kellie DeMau of Davenport, IA; and Pam Thorton of LeClaire, IA.
Facilitator for the group is Alicia Owens, a social worker at Genesis Outpatient Rehab.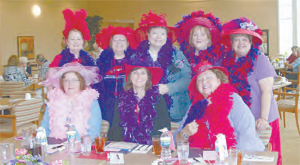 Appropriate and realistic treatments for FM are discussed. Guest speakers keep the group informed of nutrition and dental needs, sleep disorders and general healthcare.
The symptoms of FM affect men, women, and children. The symptoms include but are not limited to: pain in muscles, tendons, and ligaments; fatigue; memory and concentration difficulties; sleep disorders; irritable bowel syndrome; chronic headaches; jaw pain; varying degrees of restricted movement; and significant depression.
FM can be managed by many interventions. Some treatments include medication, pain therapy, life-style change and non-drug approaches. These include therapeutic massage, relaxation techniques, reflexology, acupuncture, nutritional counseling, gentle exercise, chiropractic care and warm-water exercise.
Live. Laugh. Be informed. That is the sound advice from the Scarlet Sisters.
Please contact Alicia Owens at 563-421-3491 if you have any questions about FM.
Filed Under: Health & Wellness
Tags: Aubry, Bettendorf Iowa, Daily Basis, Davenport Ia, Discouragement, Exercise Programs, Gentle Exercise, Guest Editorial, Jill Dean, Maplecrest, Mother Laura, Personal Plan, Pleasant Valley Ia, Queen Mother, Red Hat Society, Red Letters, Royal Historian, Sleep Aid, Taylor Ridge, Thorton
Trackback URL: https://www.50pluslife.com/2009/07/30/guest-editorial-scarlet-sisters-and-fibromyalgia/trackback/
Leave a reply