July 30, 2009
What An Honor: Covering the Honor Flight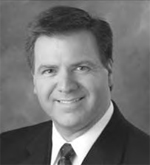 By Gary Metivier
The phone call came explaining how a couple of men had succeeded in getting an idea off the ground. Bob Morrison, who has dedicated his career to caring for our seniors at Ridgecrest Village, was eager to take on another challenge. Bob had heard about organized Honor Flights to Washington, D.C. These flights give World War 2 veterans the chance to see the new memorial built in their honor—at no cost to them. Each Honor Flight trip is funded by private donations and volunteers. The veterans are accompanied by men and women who pay their own way to be there as 'guardians.' The guardians help make sure they have the experience of a lifetime—pushing their wheelchairs, helping with medicine, and just being there every step of the way.
The problem, as Bob Morrison saw it, was that the waiting list for the national effort was too long. "We are losing veterans everyday. It is critical that we get more of our veterans there as fast as we can."
Bob realized the only way to do that was to organize a Quad City Honor Flight—and fast! He teamed up with Terry Dell who was eager to join in to help with promotion, fundraising and planning. Together they succeeded in filling up the first flight and raising the funds to make it happen last fall.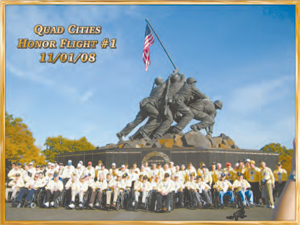 "The community response was amazing," Terry explained. "Donations, big and small, started to come in. The Quad Cities rallied behind this effort to honor our veterans."
A photojournalist from KWQC was invited to sit in one of those precise few seats to capture the experience. Mike Colon, a former military man himself, had a new mission—and a very tough one to boot, his job was to follow the journey and capture the moments of the trip so that we could provide the community a feel for what the Honor Flight was all about.
On these pages next month we'll take you through the experience, and introduce you to some of the characters we have met along the way. It is indeed our honor to be a part of the Honor Flight. Some information about the honor flights from Bob Morrison, Hub Director, Honor Flight of the Quad Cities, Development Director, Ridgecrest Village, 563-388-3271.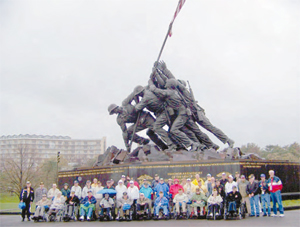 Our first two flights on 11-1-08 and 4-15-09 were a huge success, each with 162 veterans and guardians in attendance. The next QC flight date has been scheduled for Saturday, October 10, 2009. Because of a huge demand, more flights will scheduled as the donations arrive. The guardian cost is for this flight is $550. We currently have over 300 applications from those wanting to be Guardians and travel with WWII Veterans. Some are funding it themselves; others have sponsoring organizations cover the cost. We do not accept funds from WWII Veterans. This is to honor WWII Veterans, their service and sacrifice.
You are most welcome to participate. Anyone you know who is interested should complete the appropriate application and return it to me. Applications are encouraged to be sent in soon and selection is based on first come basis. Applications received from July 2008 to October 2008 are being scheduled for the next flight. Applications can be accessed on line or by calling Bob. Veterans complete the Veteran's app. Guardians go along on the trip. Volunteers help from the QC area. You may give copies of the forms to your friends that may also want to participate. More info is on the web site at www.honorflightqc.org.
Filed Under: Community, History
Tags: Bob Morrison, Community Response, Dell, First Flight, Guardians, Honor Flight, Men And Women, Metivier, Military Man, National Effort, Phone Call, Photojournalist, Private Donations, Quad Cities, Quad City, Seniors, Waiting List, Wheelchairs, World War 2, World War 2 Veterans
Trackback URL: https://www.50pluslife.com/2009/07/30/what-an-honor-covering-the-honor-flight/trackback/
Leave a reply