August 3, 2009
Hometown Reflections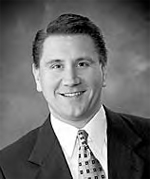 David W. Deuth, CFSP
President, Weerts Funeral Home
As the calendar flips to July this year, I can't help but think back to one of the true gems of my childhood: the annual "Song of Hiawatha" pageant, a theatrical masterpiece based upon Henry Wadsworth Longfellow's poem by the same name, produced locally in my little hometown of Pipestone, Minnesota for over 50 years.
A natural outdoor amphitheater at the edge of town creates a stunning setting for the production: a small lake sets the foreground stage, bounded on one entire side by large outcroppings of rock which form a spectacular natural cliff. Three enormous granite boulders border the far side of the lake, a perfect backdrop for the authentic wig-wams creating the Indian village the story depicts. I received my high school diploma here.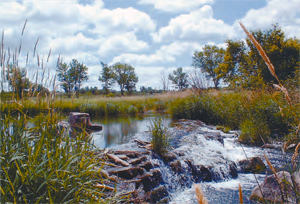 Each summer, thousands of visitors from across the country would flock to our little corner of the world to witness this incredible natural setting and to enjoy the re-enactment of Longfellow's masterpiece; it began at sundown. As the sun began to set, 5,000 chairs would nearly always be fully occupied, doubling briefly the population of our entire town. Sadly, the "Song of Hiawatha" pageant ran its final performance last year, a victim of tough economic times.
Named for the soft red stone that is native to the land here, Pipestone was first inhabited by American Indians, generations of whom have quarried this unique stone here, hand-crafting authentic peace pipes and other ceremonial items unique to their culture.
Boasting one of only two national monuments in all of Minnesota, Pipestone is also home to the Pipestone National Monument, a federallyprotected 282 acre parcel of native prairie land and sub-soil pipestone quarries. The parcel – including the quarries – was officially declared a national monument by an act of Congress in 1937, setting apart the land so that only American Indians would be allowed to quarry the stone unique to their customs and heritage. This provision remains in effect today: only American Indians may quarry the stone within the monument property.
President Franklin D. Roosevelt's New Deal helped to create projects on the site which, in turn, created local jobs. The waterfall shown here was one of those projects. We happened to be visiting the monument several years ago on a picture perfect afternoon when I snapped this photo. A 1/2 mile nature trail has been created, highlighting the stunning rock formations, native prairie grasses and the falls known here as "Winneswissa".
Among my treasured pipestone artifacts, I have a small authentic peace pipe. Crafted by an American Indian who has lived in Pipestone nearly all his life, I've known him as long as I can remember. When his mother – a tribal matriarch – died, I was privileged to assist their family with her funeral.
After the burial, he insisted on giving me the pipe as a sign of his gratitude and friendship. Entirely handmade, the bowl is solid pipestone; the stem, hand carved from a sumac branch, boasts a small leather dressing hand-wrapped with beadwork. He inscribed his tribal name, "Whirlwind", on the stone. It's become a cherished piece of my hometown history.
Later this month, I'll return to Pipestone for my 25th high school class reunion. Many things have changed there since I received my high school diploma at that same outdoor amphitheatre. But one thing has not: it's still my hometown. It's still a part of my heritage. And it's good to always remember that.
Remember well.
Filed Under: Community
Tags: Acre Parcel, American Indians, Cfsp, Economic Times, Edge Of Town, Granite Boulders, Henry Wadsworth Longfellow, High School Diploma, National Monuments, Outdoor Amphitheater, Peace Pipes, Pipestone Minnesota, Pipestone National Monument, Pipestone Quarries, Song Of Hiawatha, Song Of Hiawatha Pageant, Summer Thousands, True Gems, Weerts Funeral Home, Wig Wams
Trackback URL: https://www.50pluslife.com/2009/08/03/hometown-reflections/trackback/
Leave a reply