August 3, 2009
Make Your Home Elder Friendly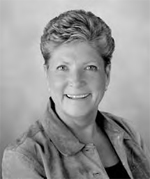 By Mary Schricker, SRES
Realtor – Ruhl&Ruhl Real Estate
Whether you have an elderly person living with you or visiting frequently, it is important to consider the potential dangers that might be a risk for injury. The risk of falls increase as we age and is one of the main causes of deteriorating health in seniors. Once an elderly person falls and breaks a bone it seems like recovery is slow, and an onset of complications often occur. Throw rugs are a common culprit. Certainly they add to the décor and serve a purpose in keeping floors clean, however they are also a serious hazard to a person who is having difficulty with ambulation or mobility. The best solution is to eliminate throw rugs, but if you feel you must use them make sure they are secured with a special backing to hold them in place.
Spills present an equal challenge. Wet or slippery floors can quickly cause a person to fall. Keep paper towels handy in case of spills. Staircases without railings are also a hazard for both younger and older persons who may be unsteady on their feet or be experiencing problems with balance. Whether it is a few steps or a steep staircase, a sturdy safety railing is a must. Child barriers or gates can be helpful. If your family member is experiencing some memory issues deadbolts are recommended on all outside doors.
Bathrooms are one of the rooms that pose the most hazards and require careful review for safety risks. Grab bars securely mounted next to the toilet or shower and bathtub are essential. Showers and tubs should have skid proof mats and a hand-held shower head is recommended. Also make sure the hot water temperature is set at a safe level so no one can burn themselves.
Removing extra clutter around the house will also aid in preventing falls. Keep newspapers and other items like boots, pet dishes, and plants out of the main traffic patterns. All extra cords from phones, or computers should be kept secure against the walls and out of the way.
As we age, it is more difficult to see without brighter lighting. Make sure areas are well lit and bulbs are bright enough to give adequate light.
A few simple steps can go a long way in making your home a safer more pleasant place for all family members.
Filed Under: Personal Growth, Stocks
Tags: Ambulation, Best Solution, Child Barriers, Elderly Person, Hand Held Shower Head, Hot Water, Memory Issues, Paper Towels, Pet Dishes, Railings, Ruhl, Safety Railing, Safety Risks, Showers And Tubs, Slippery Floors, Sres, Staircases, Throw Rugs, Traffic Patterns, Water Temperature
Trackback URL: https://www.50pluslife.com/2009/08/03/make-your-home-elder-friendly/trackback/
Leave a reply