August 3, 2009
On The Go With Joe Hutter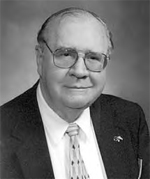 Seniors And Law Enforcement Together (SALT)
By Joe Hutter
S.A.L.T. (Seniors And Law enforcement Together) will soon be on the road again. Thanks to Sheriff Dennis Conard, S.A.L.T. members have gone to the Sheriff's Office and made calls to senior facilities throughout the County to set up dates. If your group did not get called, call Pam at the Scott County Sheriff's Office and she will get you the information. Local law enforcement officers will be attending the program to answer any of your questions.
Mark August 6th on your calendar as we will be at the Mississippi Valley Fair. Not only members of the sheriff's Office, but other groups like R.S.V.P., Quad City times Plus 60 Club, River Bend Transit System and other senior programs. Overall, Senior Day at the Fair is a fun day. There will be FREE tram rides during the day throughout the day around the fairgrounds. If you get a chance, say hello to fellow senior Bob Fox, the general manager of the Fair!
With summer here, don't fall for home repair scams. If someone comes knocking on your door, and offers to do work at a really good price, don't listen. Check out contractors before you sign a contract or pay any money. Take the time to get written estimates and get a written contract. Do not pay money in advance. For more information call the Iowa Attorney General's Consumer Protection Division at 1-888-777-4590. This is a toll free number.
Looking for something to do?? Call the Retired and Senior Volunteer Program (RSVP). They are always looking for volunteers as they have over 100 different job sites at which to volunteer. The program is part of a federal program and helps pay mileage to sites and provide liability insurance on the job. Call Dave or Linda at 793-4425. They are located at Western Illinois Area Agency on Aging. This is for Iowa and Illinois. How much you volunteer is up to you.
Take care.
Filed Under: Community
Tags: August 6th, Bob Fox, Conard, Consumer Protection Division, County Sheriff, Free Tram Rides, Fun Day, Home Repair Scams, Hutter, Iowa Attorney General, Liability Insurance, Mississippi Valley Fair, Quad City Times, Questions Mark, River Bend, Transit System, Volunteer Program, Western Illinois Area, Western Illinois Area Agency, Written Contract
Trackback URL: https://www.50pluslife.com/2009/08/03/on-the-go-with-joe-hutter/trackback/
Leave a reply