August 3, 2009
Rhubarb Festival in Aledo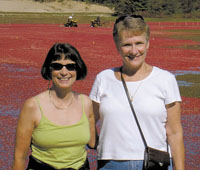 Contributed by Gail McPike and Toni Hall
Gail McPike and Toni Hall are always out and about to take in all of the interesting events in the area. On June 6th, the two (with husbands Frank and Phil) headed to the Rhubarb Festival in Aledo, Illinois. Gail and Toni had gone last year and were eager to return. They like the vendors that cover the courthouse square with their wares. Toni is always looking for yard art. One of Toni's favorite yard artists is Don Hale of Berwick, IL and he was there to once again do business with Toni.
The real rhubarb action is in the central park where there are stands that sell delicious rhubarb treats, including two thousand pies! You can also taste everything from rhubarb meatballs and desserts to rhubarb wine. There is entertainment, food everywhere, and a flea market. Mark your calendars for next year – the first weekend in June.
After leaving Aledo, the group stopped in Viola, IL at a restaurant of their friend, Deb Slavish. The Farmers Café is right in the center of town on the main road through town. The popular pork tenderloin was sold out, however Gail and Frank had great hamburgers, and Toni and Phil had a late breakfast.
Gail and Toni plan to have new adventures to read about next month. Join them here.
Filed Under: Community
Tags: Aledo Illinois, Berwick, Calendars, Central Park, Courthouse Square, Desserts, Don Hale, Entertainment Food, Farmers, Flea Market, Friend Deb, Gail, Hamburgers, Mcpike, Meatballs, Pies, Pork Tenderloin, Viola, Wares, Yard Art
Trackback URL: https://www.50pluslife.com/2009/08/03/rhubarb-festival-in-aledo/trackback/
Leave a reply