December 9, 2009
In and Out of the Quad Cities
Contributed by Gail McPike and Toni Hall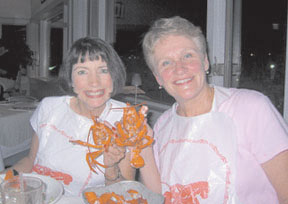 The Theatre
Did you know that "theatergoer" was a word?
As we were writing this section we were playing around with the names of people who work around stage productions. That's when we discovered it. Our guess is that unless you were one of those kids who always won at trivia or spelling-bees you have only a 50-50 chance of spelling it right. So here it is. Straight from our on-line Merriam-Webster
Dictionary:
Main Entry: the·ater·go·er
Pronunciation: the-a-tar-go-ar
Function: noun
Date: 1870
: a person who frequently goes to the theater
We never really thought of ourselves as "theatergoers" but we love all of the great stage productions – from Broadway in NY, NY to the shimmering lights of that "great white way" of Davenport. We just love to check out the play.
Gail: I was way out of the Quad Cities. I decided to accompany hubby Frank to California for couple of days in San Diego. While I was there enjoying a west coast beach, Toni took in some plays in the Quad Cities.
Toni: While Gail was away, I went with Phil to see "Swimming in the Shallows" by the New Ground Theater Company at the Village Theater. The play was a clever one-act light comedy. I would recommend any production by the resident companies in this delightful venue, and they do have a senior discount.
For those of you not familiar – the century old Turner Hall on the edge of Lindsay Park in the Village of East Davenport has come back to life as The Village Theater. It's easy to make a "night of it" in the Village – restaurants, shopping, saloons and now a quaint little theater.
A couple of nights later, a friend and I enjoyed The Wedding Singer at the Adler Theater. I, Phil, Gail and Frank all have subscriptions to the Broadway series at the Adler. Here's the way that works, it's just like a season ticket for plays. You get the same reserved seat for every play that comes to the Adler for the winter season. That means the best seats in the house, no waiting in line and lost ticket insurance. The price is reasonable and the shows are great.
Can you say "Road Trip"?
Frank's favorite scene from the movie "Animal House" was John Belushi's wild road trip. Well, we took a little road trip too. (Gail and Toni, that is.). On the weekend of November 14th, we headed west to Des Moines to see (you guessed it) another show at the Civic Center. This time the treat was Broadway production: Rent. It was fabulous. We got to see our old friend Elaine Platt and a really first rate version of a Broadway hit. So what does one theatergoer say to another? Let's hang around for another play. We stayed over to Sunday to see Cabaret at Drake University. These kids just knocked themselves out for us. It was wonderful. We made a note to self – don't forget to check out productions at our local schools – Augustana College, St. Ambrose University, and all the area high schools. The students do a great job just like the show that we saw in Des Moines.
At the Haunted House
At our age (50+), it's not all that much fun trick-or-treating. The candy looks good, the neighbor down the street gives away shiny new dimes, but we keep forgetting our Halloween riddle. We wanted to get into the Halloween spirit, so on October 30th, along with hubbies Frank and Phil, we headed to Skellington Manor in Rock Island. It was a special treat; as Sesame Street would say – G is for ghosts, ghouls and goblins. You had to see this place; there was more fake blood than a Quentin Tarantino flick. And I believe they had a cadre of mad doctors and executioners working on artificial smoke. And the characters were – real. It was the a three ring circus of spooky fright fests. What a wonderful country. The QCA had nearly a half dozen haunted houses to choose from. We give haunted houses two (2) boney, wart encrusted, mummy looking thumbs up…Get out there next year and you might run into us in the graveyard or asylum in that haunted house.
A Touch of New York
We are fortunate to have the live HD broadcasts of the New York Metropolitan Opera at the Cinema 53. These are world class productions and it feels like that you are right there in the front row, and even backstage for special features. We saw Aida by Giuseppe Verdi on October 24th and Giacomo Puccini's Turandot on November 7th. These operas were just fabulous and we recommend the series to everyone. Check your local listings; the next broadcast is in December.
Autumn Campfire or Prometheus busted near our house
Remember poor old Prometheus? He was the Greek god (or maybe officially demigod) who stole fire and gave it to mankind. For 10,000 years folks have gathered on a chilly night to warm themselves and gaze into the fire. We do like to get out and about but we also love our own area and neighborhood. Frank and I (Gail) hosted a fire-side chili feed and potluck for friends and neighbors. Our friend, we'll call him "R" turned out to be the designated fire bug. So with fire well stoked in the old fire pit, a few QC cowboys broke out their guitars for a bit of campfire singing. It was a fantastic weather for a November evening and we enjoyed it greatly – and you haven't lived until you've heard our friend Laura sing every verse of the "Ode to Billy Joe."
The Holidays Are Here
We are looking forward to the great events in December here in the Quad Cities, VandeVeer will have their holiday display. There will be Light Tours in the neighborhoods, Festive Walks in the villages and outlying towns, Holiday Luncheons, Home tours and Family Festivals. Read the Calendar of Events to see some of the listings. We hope get out and enjoy the season. Happy Holidays from Gail and Toni (and the hubbies).
Filed Under: Community
Tags: Ater, Broadway Series, Clever One, East Davenport, Light Comedy, Lindsay Park, Mcpike, New Ground, Quad Cities, Saloons, Shimmering Lights, Spelling Bees, Stage Productions, Swimming In The Shallows, Those Kids, Turner Hall, Village Restaurants, Webster Dictionary, Wedding Singer, Winter Season
Trackback URL: https://www.50pluslife.com/2009/12/09/in-and-out-of-the-quad-cities-2/trackback/