August 5, 2010
Eat Your Way to Healthier Vision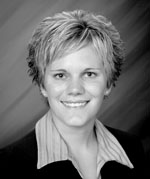 By Valerie Wheatley, R.D., L.D., L.D.N
Hy-Vee Registered Dietician
(309) 787-0273
E-Mail: 1106dietitian@hy-vee.com
Green and gold foods are loaded with two important antioxidants naturally designed to maintain eye health.
You can eat your way to healthier vision! Just focus your taste buds on a variety of sunshine-ripened fresh fruits and vegetables.
Green and gold foods are loaded with two important antioxidants naturally designed to maintain eye health. Recent studies have shown that eating a diet rich in the antioxidants lutein and zeaxanthin may slow down the progression – and possibly improve the condition of – age-related macular degeneration and the development of cataracts. In fact, studies show people who eat foods rich in lutein can cut the risk of cataracts by 20%.
All you need to do is simply include dark green vegetables in your diet every day. Begin by enjoying a fresh summertime spinach salad. Add slices of zucchini, broccoli and green bell peppers to your salad for an added boost of lutein. Other great green sources of lutein include romaine lettuce, kale, honeydew melon, green beans and cooked collard and turnip greens.
Go for the gold! One of the best sources of vision-enhancing food is the wonderful summertime favorite, corn-on-the-cob. Sweet corn prepared in any way – including homemade cornbread – is good for your vision. So are peaches and nectarines.
Surprisingly, carrots are not on the list. Although rich in vitamin A (beta-carotene) and good for vision in other ways, carrots contain just small amounts of zeaxanthin and lutein. As a side note, golden-colored egg yolks are also rich in lutein.
Looking for a few vision-enhancing foods? Just go to Hy-VeeHealth.Com and search for your favorite green and gold produce recipes.
Soy Sauce-Sprinkled Corn-on-the-Cob
Skip the butter and try soy sauce instead.
All you need :
6 ears Olathe sweet corn
Lite soy sauce
All you do:
Remove husks and silk from each ear of corn. Place corn in a large saucepan and cover with water. Boil for 7 to 10 minutes or until tender. Drain. Serve sprinkled with soy sauce.
Nutrition facts: 160 calories, 1g fat, 6 g pro, 36 g carbs, 420 mg sodium and plenty of sight-saving lutein.
---
Sight-Saving Spinach Salad
Serve as a summer meal with a whole-grain roll
All you need
1 tbsp Hy-Vee vegetable oil
Juice of 1 lemon
1/2 tsp Hy-Vee granulated sugar
1/4 tsp Hy-Vee salt
3 c. fresh spinach
1 c. cubed cantaloupe
1/2 c. halved red grapes
2 tbsp Hy-Vee pecan pieces
All you do
Whisk together oil, lemon juice, sugar and salt. In a large bowl, toss spinach, cantaloupe, grapes and lemon juice mixture. Top with pecan pieces before serving. Serves 4.
Nutrition facts: 90 calories, 10g carbs, 6g fat, 1g protein, 2g fiber, 180mg sodium. Excellent source of vitamin A and vitamin C and lutein.
Filed Under: Health & Wellness
Tags: Age Related Macular Degeneration, Beta Carotene, Cataracts, Colored Egg, Corn On The Cob, Cornbread, E Mail, Ear Of Corn, Egg Yolks, Eye Health, Fresh Fruits And Vegetables, Fruits And Vegetables, Green Beans, Green Vegetables, Lutein, Nectarines, Spinach Salad, Sweet Corn, Taste Buds, Turnip Greens
Trackback URL: https://www.50pluslife.com/2010/08/05/eat-your-way-to-healthier-vision/trackback/