November 4, 2010
Health and Fitness at 50+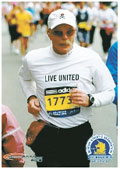 By Ray Porter
Owner and Head Fitness Consultant
Workout With Ray LLC
I am not sure if I am happy or perturbed about being asked to write this article. I was asked to write an article on health and fitness for people ages 50+. I am happy as I believe the person asking me to write it feels as though I must have a good deal of knowledge and experience in fitness training with people 50+. But I am also a bit perturbed as I have no idea how one is supposed to feel, look or act at 50+. Just the other day my best friend in the world – who is also 50+ – asked me when we started seeing doctors so often? All I could do was let out a big sigh.
So…I just took a moment and felt sorry for myself. OK the moment is over.
I am here to tell you I feel better at 50+ than I have ever felt. Maybe a few more aches and pains where I never knew I could have aches and pains before, but overall I feel good. Physically I take good care of myself. Through my fitness training and consulting business, I get to work out every day – at least once or twice a day – and I feel a sense of accomplishment because I know I am helping people feel better about their bodies and health through fitness.
My questions to other 50 + people are these: What are you doing to take care of yourself? What are you doing to get back into "those jeans" again? Are you ready to finally do something about "getting back into shape"? Are you ready for people to notice your FIT shape… and not your FAT shape? Are you tired of all of those diets and cardio workouts that just aren't taking off the weight? How long are going to be able to avoid that "inevitable middle age spread"?
My name is Ray Porter. I'm 50+ and the owner and head fitness consultant at Workout With Ray LLC. I am an Aerobics Fitness Association of America (AFAA) certified personal trainer with years of experience working with 50+ clients to improve their health, fitness, and attitude toward life. Before starting to help people get fit and reclaim their health and their bodies, I was a Lutheran pastor. I have been an athlete my whole life, but it was during the years in my three parishes that I began to run and train on a regular basis.
I started Workout With Ray LLC to help people reclaim their bodies and enjoy better health. I have helped many clients desiring to run 5k to marathon distances; aging baby boomers fighting "the inevitable middle-age-to-senior spread"; new older moms who want their pre-baby bodies back, and all 50+ seniors who want to continue enriching their quality of life. I look forward to working with you to achieve your fitness goals!
For more information, go to www.workoutwithray.com, or to get started today call Ray at 563.676.6930.
Filed Under: Health & Wellness
Tags: Accomplishment, Aerobics, Afaa Certified Personal Trainer, Attitude, Best Friend In The World, Cardio Workouts, Certified Personal Trainer, Consulting Business, Diets, Doctors, Fitness Association, Fitness Consultant, Fitness Training, Fitness Workout, Getting Back Into Shape, Health And Fitness, Health Fitness, Middle Age, Ray Porter, Those Jeans
Trackback URL: https://www.50pluslife.com/2010/11/04/health-and-fitness-at-50/trackback/