November 4, 2010
Prevent Diabetes Today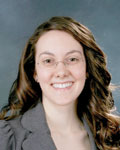 By Chrissy Mitzel, M.S., R.D., L.D.N.
Health Registered Dietician
(309) 793-0684
Picture your most recent visit to the doctor. Did your doctor bring up the terms "high blood sugar,""borderline diabetes" or "weight loss"? If so, your doctor may be warning you that you're at risk for or already have pre-diabetes. According to the American Diabetes Association, 57 million Americans have this condition. In the case of pre-diabetes, your blood sugar is higher than normal, but not high enough to be classified as diabetes. If this scenario sounds familiar, you can consider yourself lucky and thank your doctor for keeping a close eye on you. In many cases of pre-diabetes, type 2 diabetes can be prevented or delayed with some simple lifestyle changes.
1. Maintain a healthy weight. If you're overweight or obese, you're not alone. Two-thirds of Americans fall into one of these weight categories. Dropping just 5-10% of your body weight can decrease your risk of diabetes. That is only ten to twenty pounds for a two-hundred pound adult.
2. Eat right. The food choices you make do impact your health. Fortunately, a healthy diet can be simple and enjoyable. Start with easy changes such as these: eat at least three meals a day, cut back on portion sizes and include more non-starchy vegetables. You do not have to stop eating your favorite foods, but you do have to change the way you eat them. For instance, enjoy one or two slices of pizza if you have a big green salad first.
3. Move it. Physical activity is a key to maintaining both your blood sugar and your body weight. Check with your doctor first and do what you enjoy. Adults need at least 150 minutes of moderate-intensity activity each week. You can break this up into as little as ten minutes of activity at one time. Don't forget the simple steps either – take the stairs instead of the elevator and park at the far end of the parking lot to sneak in extra activity time.
4. Seek help. You know you should lose a few pounds, eat less and exercise more, but it's not as easy as it sounds. Why not enlist the help of a registered dietitian? A dietitian can give you the knowledge and motivation you need to succeed for life. No crash diets here – just simple, healthy eating.
You can impact your health and prevent or delay diabetes. Why does it matter? Diabetes can come with a host of dangerous complications like loss of vision, kidney disease, heart disease and limb amputation. Make the decision to change today.
This information is not intended as medical advice. Please consult a medical professional for individual advice.
Filed Under: Health & Wellness
Tags: Activity Time, American Diabetes Association, Borderline Diabetes, Chrissy, Diabetes Type 2, Favorite Foods, Food Choices, Green Salad, Healthy Diet, High Blood Sugar, Lifestyle Changes, Mitzel, Moderate Intensity, Non Starchy Vegetables, Portion Sizes, Pound Adult, Pre Diabetes, Time Don, Type 2 Diabetes, Weight Categories
Trackback URL: https://www.50pluslife.com/2010/11/04/prevent-diabetes-today/trackback/