September 2, 2011
Like Push-Ups for Your Mind: Brain Training Makes Strides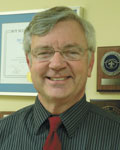 By Bob Morrison
Development Director of Ridgecrest Village
As a Certified Senior Advisor (CSA), I try to keep up on current information for seniors. There has been a lot of talk about brain fitness lately, especially as baby boomers start to think about retirement and how to best keep their minds sharp during the golden years. Crossword puzzles, word games and other mental challenges are thought of as the easiest ways to keep a brain active, but new companies are offering more complicated – and more fun – ways of honing cognition.
Tom and Mary Kalshoven say, "We chose Davenport's Ridgecrest Village at a young enough age with good health so that we could take full advantage of the wide ranging programs and services. Mary is enjoying the "Dakim Brain Fitness" program several times each week." Lorma Marcue says, "The Dakim mind games keep our brains active!"
Penny Wilson was quoted about brain training in the VitalKnowledge blog at viliving.com. She first became interested in the idea when her father-in-law was diagnosed with Alzheimer's disease. "I think it's really important to make people aware that what
science used to tell us is as you age, your brain slowly degenerates," she told The Calgary Herald. "But in the last 10 years, they've proven no – you can rebuild your brain just like you can rebuild other muscles in your body." She estimates that the market for brain fitness will be worth $4 billion by 2015, a notable jump from its current value of $300 million.
Of course, the $4 billion question is whether activities that exercise the brain can actually help prevent disease. While the findings have often been inconclusive at best, researchers from the University of California, San Francisco, released a study last year indicating that those who practice it may actually see some benefits.
"From middle age onward, there are universal changes in the brain affecting perceptual processing," said Dr. Etienne de Villers-Sidani, a neurologist. "We used to think these were permanent changes, and now are beginning to think maybe they're not."
The researchers evaluated a rat's brain activity after training and found that the process had reversed some age-related memory decline and improved the health of brain cells. For a month, researchers administered audio training to a group of rats and discovered that the animals – whose age was the equivalent of 65 to 85 in human years – learned to recognize the sounds and decipher the meaning of them. This reversed the deterioration evident in the sound-processing areas of their brain before the experiment.
"They indicate that you shouldn't just stick to your routine," researcher Rick Lin said. "Challenge yourself and don't stop doing something just because you might take longer at it."
Those who are considering a move to a retirement living community and feel like they are stuck in a routine may benefit from the transition to a place where there are clubs and classes that can challenge residents to learn new things. All the while, the vibrant and friendly atmosphere is sure to foster friendships and unforgettable experiences.
Don and Phyllis Morrison talk about staying mentally active at Ridgecrest Village while having fun, "We use an exercise room, a woodworking shop, many card games, and Don is in charge of Nintendo Wii games. Four teams enjoy a bowling or golf tournament once each month."
Filed Under: Health & Wellness
Tags: Baby Boomers, Bob Morrison, Brain Fitness, Brain Training, Calgary Herald, California San Francisco, Crossword Puzzles, Current Information, Current Value, Development Director, Fitness Program, Mental Challenges, Middle Age, Mind Games, Penny Wilson, Push Ups, Universal Changes, University Of California San Francisco, Ups, Word Games
Trackback URL: https://www.50pluslife.com/2011/09/02/like-push-ups-for-your-mind-brain-training-makes-strides/trackback/