October 5, 2011
Fall Super Foods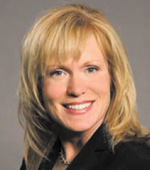 By Dawn Blockinger, R.D., L.D.N.
Hy-Vee Registered Dietician, Moline, IL Hy-Vee store
309.757.1085
E-Mail: dblocklinger@hy-vee.com
Super foods are defined as foods that not only provide essential nutrients, but also deliver an added benefit that protects our health. Whether it's a carotenoid, polyphenol or anthocyanin guarding us, research shows many of these foods have one thing in common. They contain tannins which give them their unique colors. Each color is known to provide one or more beneficial phytonutrient that prevents disease. It is no wonder dietitians consistently encourage the consumption of fruit and vegetables with the colors of the rainbow.
To date, over 900 phytonutrients have been discovered. Each one has a unique quality that protects and prevents cellular damage and boosts the efficiency of vitamins and minerals. Repeated studies for years have proven that people who eat at least five servings of fruits and vegetables per day, of various colors, are healthier longer. This situation is similar to adding fertilizer to your lawn. The lawn grows greener, stronger and more resistant to disease. Fall in the Midwest brings us a harvest of wonderful super foods. Take advantage of this bounty while protecting from disease. Eating more than five servings of fruits and vegetables of different colors every day will, indeed, protect you from disease.
The number of fruits and vegetables recommended per day sounds like a lot of calories. But consider the calories in these examples using fall foods :
1 loaded potato skin = the calories of 12 cups of baby spinach
1 serving (2 wafers) nutty bar snack = 110 grapes
1 packet of fruit-flavored snacks = 2 cups of watermelon
1 ounce nacho-flavored chips = 1 whole small cantaloupe
1 small container of fruit-flavored beverage = 5 cups steamed broccoli
For information and suggestions on the benefits of these super foods, try these websites: http://www.choosemyplate.gov/ or
http://www.fruitsandveggiesmatter.gov/benefits/nutrient_guide.html
Fall Foods with Color: Yellow/Orange: Carrot, Pumpkin, Squash, Sweet potato; Red: Apples, Cranberries, Tomato, Watermelon; Purple: Beets, Plums, Purple grapes; Green: Broccoli, Cabbage, Chard , Kale
Apple-Stuffed Acorn Squash Serves 4

All you need
1 cup chopped, unpeeled tart apples
? cup packed Hy-Vee brown sugar
2 tbsp. Hy-Vee butter, melted
? tsp. Hy-Vee ground cinnamon
1 medium acorn squash, halved and seeded
Hy-Vee graham crackers, crushed, optional
All you do
1. In a medium bowl, stir apples, brown sugar, butter and cinnamon to coat.
2. Place squash cut-side up in an 8-by-8-inch microwave-safe baking dish. Fill each half with about ?-cup apple mixture.
3. Cover loosely with plastic wrap.
4. Microwave on HIGH for 20 minutes.
5. Sprinkle with graham cracker crumbs before serving, if desired.
Nutrition Facts per serving: 150 calories, 3 g fat, .5 g saturated fat, 1 g trans fat, 0 mg cholesterol, 35 mg sodium, 33 g carbohydrates, 3 g fiber, 22 g sugar, 1 g protein.
Daily Values: 10% vitamin A, 25% vitamin C, 6% calcium, 6% iron.
Filed Under: Health & Wellness
Tags: Added Benefit, Anthocyanin, Baby Spinach, Bar Snack, Cantaloupe, Cellular Damage, Colors Of The Rainbow, Different Colors, E Mail, Essential Nutrients, Fruit And Vegetables, Fruits And Vegetables, Hy Vee, Ldn, Nutty Bar, Phytonutrient, Phytonutrients, Polyphenol, Potato Skin, Vitamins And Minerals, Wafers
Trackback URL: https://www.50pluslife.com/2011/10/05/fall-super-foods/trackback/