March 1, 2012
National Frozen Foods Month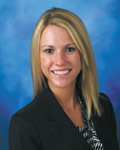 By Molly Muchow RD, LD
Hy-Vee Registered Dietician
(563) 359-9323
mmuchow@hy-vee.com
March marks National Frozen Foods Month, a good time to explore new ways to use the healthy, convenient foods found in the freezer aisle at the grocery store.
Get Started: Be Freezer-Meal Savvy
• Plan ahead. Mix a variety of flavors, textures, colors and food groups to keep meals interesting and provide a wide range of
nutrients.
• Keep MyPlate in mind when stocking your freezer. Fruits, vegetables and proteins are all easy to store frozen.
• Stock your cupboards with staples such as spices, oil and whole grains like brown rice or quinoa to simplify meal preparation.
• Don't get stuck in a rut. Pair quick and easy items like your favorite frozen vegetable blend with less common proteins like meat substitutes, legumes or seafood kabobs.
Think like a Pro: What's in a Dietitian's Freezer?
Fruits and Vegetables
You would be hard pressed to find a dietitian with no produce in the freezer. Think like an RD; enjoy your favorite seasonal produce all year long. Not only are frozen berries, cherries and tropical fruits just as nutritious as fresh, they're often less expensive. When selecting frozen vegetables, avoid unnecessary added fat, sodium and sugar by checking the package's ingredient list for anything that has been added to your produce.
Protein
Many companies offer perfectly portioned proteins like fish, chicken or turkey burgers in individual 3- to 4-ounce packages, which takes the guesswork out of serving sizes. Shake things up with meat substitutes like Morning Star Farms® Meal Starters or Gardein® Beefless Tips to decrease saturated fat and calories, while adding fiber and heart-healthy fats.
Check the sodium content of frozen protein products; sodium solutions are often used to preserve frozen proteins. Pair higher-sodium frozen proteins with no-salt-added vegetables and grains to
balance the meal.
Starches
Adding a healthy side dish to your meal has never been easier! Whole grain breads, waffles and muffins, as well as steam-in-the-bag brown rice and mashed potatoes, are popping up in the freezer aisle. Try Birds Eye® Veggie Rich Rice Blends with NuVal scores over 90.
Start the day right with this quick and nutritious breakfast recipe.
Breakfast from the Freezer Serves 4
All you need
2 cups Hy-Vee frozen blueberries
2 tbsp honey
8 Morning Star Farms Breakfast Sausage Links
8 Van's whole grain frozen toaster waffles
All you do
1. Place blueberries in a medium saucepan over medium heat until blueberries are thawed and beginning to break apart.
2. Reduce heat to low, add honey and lightly press blueberries with a large spoon to break them apart. Keep sauce on low heat until ready to serve.
3. Prepare sausage links and waffles according to package directions.
4. Top waffles with blueberry sauce just before serving.
Nutrition Facts per serving: 330 calories, 9g fat, 1g saturated fat, 0mg cholesterol, 620mg sodium, 50g carbohydrate, 9g fiber, 19g sugar, 15g protein
Daily Values: 2% vitamin A, 4% vitamin C, 15% calcium, 30% iron
Information is not intended as medical advice. Please contact your medical provider for individual guidance.
Molly Muchow is a registered dietician at Hy-Vee. She can be reached at (563) 359-9323 or mmuchow@hy-vee.com.
Filed Under: Health & Wellness
Tags: Flavors, Frozen Vegetable, Frozen Vegetables, Fruits And Vegetables, Fruits Vegetables, Meal Preparation, Meat Substitutes, Morning Star Farms, Muchow, Ounce Packages, Protein Products, Savvy Plan, Seafood Kabobs, Serving Sizes, Side Dish, Sodium Content, Staples, Tropical Fruits, Turkey Burgers, Whole Grains
Trackback URL: https://www.50pluslife.com/2012/03/01/national-frozen-foods-month/trackback/