May 17, 2012
Self-Improvement: The Story of One Audiologist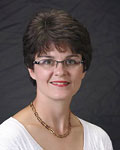 By Dr. Molly Parker
Audiologist
Parker Audiology, PC
A while back before school started, my wonderful husband decided that we should both lose weight. I was heavy and did not want to change my way of doing things. My husband told me he would assume all shopping, cooking and menu planning. Our grocery bills more than doubled because fresh fruits and vegetables are expensive! My husband insisted that this was not a diet—it was our new healthy living lifestyle!! It became a household joke.
Not having to cook, I happily ate what was given to me. I rebelliously did not exercise and even went to bed earlier. Between eating less and reducing the late night snacking, I felt lighter after a few months. I began to assume the responsibility of cooking and shopping. We used less oil and tried new vegetables. Small portions of fresh salmon, tuna and shark from the Great Midwest Seafood store in Davenport felt indulgent and healthy. After nine months of this new "healthy living lifestyle," I bravely weighed myself and found I had lost about 50 pounds. I could not believe it! There was very little effort on my part.
I sometimes compare hearing aids to taking on "a new healthy living lifestyle." It is important to realize that the changes you are making are permanent and they are for YOU. Sometimes it takes a little prodding or an experience to push you into this new mindset. Hopefully once the benefits are realized, the habit of better hearing becomes permanent, even if you are "only" by yourself or "only" with your spouse. It may be easiest to begin using hearing aids in steps, wearing them a little bit at a time. Like a diet, using hearing aids means re-learning what "normal" really means. TV volume is a good test to see how your old hearing and improved hearing ability compares to how a real normal hearing person experiences sound. Ultimately, steady hearing aid use has been repeatedly shown to be correlated to happier, more active, healthier individuals.
Here is another very personal fact about me…I have worn amplification since I was 5 years old. Even as an audiologist, I go through the same mood swings with hearing aid use just like anyone else. It takes effort to live better. So, after about 2 ? years, my husband and I still count our calories and add fresh produce to everything imaginable. We feel better overall…except on holidays when we give in a little. And I still wear my hearing aids every day.
Upcoming events…..

Have your ears checked at the Senior Voice Fair May 10 at the Mississippi Valley Fairgrounds .
Moving soon to a new location…..

Parker Audiology is moving soon to 3601 N. Division Street, Davenport, next to Popcorn Charlie's.
Filed Under: Health & Wellness
Tags: Audiologist, Audiology, Better Hearing, Davenport, Fresh Fruits And Vegetables, Fruits And Vegetables, Great Midwest, Grocery Bills, Hearing Aid, Hearing Aids, Late Night, Little Bit At A Time, Mindset, Molly Parker, Nine Months, Person Experiences, Seafood Store, Self Improvement, Tuna, Tv Volume
Trackback URL: https://www.50pluslife.com/2012/05/17/self-improvement-the-story-of-one-audiologist/trackback/