May 30, 2012
Herbs – A Fresh Idea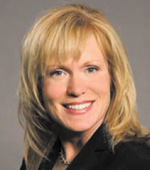 By Dawn Blockinger, R.D., L.D.N.
Hy-Vee Registered Dietician, Moline, IL Hy-Vee store
309.757.1085
E-Mail: dblocklinger@hy-vee.com
Throughout the centuries, herbs have been used to liven up the flavor of many meals. Herbs are a great way to replace fat and salt in dishes but still retain the taste. A frequent question is how to cook with herbs and what foods to pair with them. Below is a list of some common types of herbs and how to use them.
Basil is used in Mediterranean and Asian cuisine. Add fresh or dried basil to salads and pasta dishes. Chopped fresh basil is also excellent paired with tomatoes, fresh mozzarella cheese, olive oil and a little pepper.
Oregano is also known as the "pizza herb." Oregano and basil together give Italian foods a very nice flavor. Besides its use in pasta dishes, this herb can also be added to egg dishes. Try sprinkling oregano on scrambled eggs instead of salt. Dried oregano can also be added to chicken and meat rubs.
Chilies have woodsy and warm flavors that will add a whole new dimension to even the most humble dish. Large chilies are milder, while small chilies are hottest. Chilies can be paired with seafood, eggs, poultry or meat as marinades, sauces or rubs.
Rosemary is an herb that works nicely with any cut of meat. It is also great sautéed with a little olive oil and vegetables. Try adding rosemary to potato dishes.
Parsley is often thought of as a garnish, but this herb can do much more than that! Chopped fresh parsley can be added to mashed potatoes, blended into marinades or mixed into salads.
One important tip when cooking with herbs is that the fresh-to-dried herb ratio is two to one. For example, if a recipe calls for one tablespoon dried herb, then use two tablespoons of the fresh herb. Below is a great summertime recipe using herbs.
Zesty Orange Beef Kabobs
Serves 5
All you need:
? cup olive oil 2 oranges, juiced
2 tsp. oregano 1 tsp. chili powder
1 pound sirloin, cut into cubes 1 red onion, cut into wedges
All you do:
Into a medium bowl, whisk together oil, juice of two oranges, oregano and chili powder. Add cubed beef. Marinate for 30 minutes. Discard marinade. Thread meat alternatively with onions onto skewers. Grill for 10 to 15 minutes. Serve with a fresh green salad mixed with basil and parsley, and roasted potatoes drizzled with olive oil and rosemary.
Nutrition per serving: 330 calories, 20 g fat, 5 g saturated fat, 0 g trans fat, 80 mg cholesterol, 65 mg sodium, 10 g carbohydrate, 2 g fiber, 6 g sugar, 27 g protein.
The information is not intended as medical advice. Please consult a medical professional for individual advice.
Filed Under: Health & Wellness
Tags: Asian Cuisine, Beef Kabobs, Chili Powder, Cooking With Herbs, Cup Olive Oil, Cut Of Meat, E Mail, Egg Dishes, Flavors, Frequent Question, Fresh Idea, Italian Foods, Meat Rubs, Orange Beef, Pasta Dishes, Potato Dishes, Red Onion, Scrambled Eggs, Summertime Recipe, Tsp
Trackback URL: https://www.50pluslife.com/2012/05/30/herbs-%e2%80%93-a-fresh-idea/trackback/