August 28, 2012
Winter Around the Corner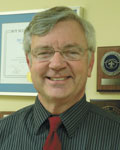 By Bob Morrison
Development Director of Ridgecrest Village
Winter is just around the corner. This season can be beautiful, but winter also brings snowy days, and slippery streets and sidewalks, shoveling snow and COLD. It is important for seniors to protect themselves. Every year, many elderly people are injured or even die from hypothermia and exposure. As we age, our bodies are less able to protect us from and detect dangerously cold weather.
Many times elderly people are not able to adjust to extremes in the weather. In cold weather, some senior citizens may not keep their homes warm enough to promote good health. It's extremely important to check furnaces and make sure the thermostat in your loved one's home is working properly and is set at an appropriate temperature.
Winter also exposes senior citizens to the risk of slipping and falling on ice. If this should happen to your elderly loved one, and no one is home to help them, the outcome could be serious injury or even death. A good senior alert system will detect that fall and contact someone to check in on them. Keep a cell phone with you at all times.
Healthy eating is important for everyone, especially our seniors. Winter months make it hard and sometimes impossible to get out to the store. It is much too easy to curl up under a blanket and make some soup (high in sodium) or just skip a meal and stay cuddled up. Unhealthy eating in the winter months usually causes weight gain and wreaks havoc on the immune system.
With winter seasons come shorter daylight hours and many holidays, which means many left overs and sweets. Sometimes it is hard to make good decisions, because the easier decisions are found in the refrigerator. Winter might mean you don't go out to eat as much. Fruits, vegetables, and vitamins should still be included. A healthy diet is a great way to ensure strength and energy.
Making sure your rugs are flattened is especially relevant for winter, as people wear shoes with bad or no traction. Check walking areas for surfaces that may cause falling. Though you may not want to venture for a walk outside, you can still do light exercises indoors. Keep your legs and arms strong by doing simple, light-weight exercises to avoid muscle atrophy and keep your mental health sharp.
Our area is fortunate to have local retirement locations that can help you avoid all that. We asked residents at Ridgecrest Village for their experience:
– Phyllis said, "I feel secure knowing people are here to help me feel safe. I enjoy having fun with local and community activities without driving."
– Jerry added, "I really appreciate clean sidewalks from my cottage!"
– Bob said, "Here for two months, and my wife has shown improvements in agility. The exercise program keeps me physically and mentally adept."
The cold seasons are especially popular with "Continuum Care!" at Ridgecrest. The village has cottages, Independent Living apartments, Assisted Living apartments, and nursing care; all in 22 acres. Apartments are all connected indoors. Cottages have sidewalks and streets diligently cleared of snow and ice. Should they ever need it, residents receive the daily care they need right here. They can have assistance with a few daily tasks, or even around the clock nursing care.
Those living in an established retirement community have the peace of mind knowing they will be able to live with many friends and neighbors in a safer environment with more opportunities.
So, prepare now to get out of the cold. Enjoy the healthy life as expressed by our friends. Our Gourmet Chef prepares a lunch buffet which includes several main entrees, as well as a wide selection of side dishes, an amazing salad bar and desserts. Stop by to enjoy a lunch and relaxing tour of our village.
Filed Under: Health & Wellness
Tags: Bob Morrison, Daylight Hours, Development Director, Falling On Ice, Fruits Vegetables, Furnaces, Good Health, Havoc, Healthy Diet, Healthy Eating, Hypothermia, Immune System, Senior Citizens, Sidewalks, Snowy Days, Thermostat, To Extremes, Unhealthy Eating, Weight Gain, Winter Seasons
Trackback URL: https://www.50pluslife.com/2012/08/28/winter-around-the-corner/trackback/