December 2, 2012
Holiday Brunch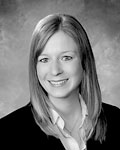 By Beth Freehill, MS, RD, LD
Hy-Vee Registered Dietician
Clinton Hy-Vee
563-243-6162
The holidays mean two things for most people – family/friends and food! At some point during the holidays, many of us either attend or host a holiday brunch. Brunch can be just as festive and fun as other holiday meals. If looking for a menu idea, consider this:
• Cranberry Pancakes (recipe below)
• Fresh cut fruit
• Yogurt parfait using granola – serve in a tall glass, alternating layers of yogurt and granola
Read on for some helpful tips and the recipe for Cranberry Pancakes.
Keep it simple.

Do not try to accommodate everyone's personal favorite. Include a grain, fruit and protein. To really keep it simple, try to prepare as many dishes as you can the day prior. The batter for the cranberry pancakes can be made the day before and stored in the refrigerator.
Keep it healthy.

It is very easy to overdo the calories during the holiday season. Serving a balanced brunch will help keep calories in check. Protein sources, such as a yogurt parfait, will help promote a feeling of fullness without overdoing the calories. Also, try to include extra nutrients into your holiday brunch by using fresh or dried fruit and whole grains. Go light on the sugar by using spices like cinnamon, nutmeg, vanilla and fruits.
Cranberry Pancakes
Serves 2 (2 pancakes each)
Active time: 20 minutes
Total time: 20 minutes
All you need
1/2 cup fresh cranberries 1/4 cup Hy-Vee all-purpose flour
1 tbsp yellow cornmeal 1 tbsp. Hy-Vee sugar
1/2 tsp. baking powder 1/8 tsp. salt
2 tbsp. plus 2 tsp Hy-Vee whole-wheat flour
1/8 tsp. nutmeg or 1/4 tsp vanilla extract
6 tbsp. Hy-Vee nonfat milk
2 tbsp. pasteurized egg substitute, such as Egg Beaters
1 1/2 tsp. walnut oil or Hy-Vee canola oil
All you do
1. Bring 2 inches of water to a boil in a small saucepan. Add cranberries; boil for 2 minutes. Drain and cool for 5 minutes.
2. Meanwhile, whisk all-purpose flour, whole-wheat flour, cornmeal, sugar, baking powder, salt and nutmeg (if using) in a large bowl.
3. Whisk milk, egg substitute, oil and vanilla (if using) in a small bowl until combined.
4. Coarsely chop the cranberries; stir into the milk mixture. Stir the milk mixture into the dry ingredients just until combined.
5. Coat a griddle or large nonstick skillet with cooking spray; heat over medium heat. Using 1/4 cup of batter for each pancake, cook 2 pancakes at a time until bubbles dot the surface, 2 to 3 minutes. Flip and continue cooking until browned, 1 to 2 minutes more. Repeat with the remaining batter.
Nutrition facts per serving: 189 calories; 4g fat (0g sat, 1g mono); 1mg cholesterol; 34g carbohydrate; 6g added sugars; 6g protein; 3g fiber; 336mg sodium; 185mg potassium. Carbohydrate servings: 2; Exchanges: 2 starch, 1 fat. Source: adapted from Eating Well, Inc.
This information is not intended as medical advice. Please consult a medical professional for individual advice.
Filed Under: Health & Wellness
Tags: Baking Powder, Dried Fruit, Egg Beaters, Egg Substitute, Freehill, Fruit Yogurt, Holiday Brunch, Holiday Meals, Ms Rd Ld, Nonfat Milk, Pancakes Recipe, Protein Sources, Purpose Flour, Salt 2, Tall Glass, Tsp, Walnut Oil, Whole Grains, Whole Wheat Flour, Yellow Cornmeal
Trackback URL: https://www.50pluslife.com/2012/12/02/holiday-brunch/trackback/