April 30, 2013
Go Greek with Simple Solutions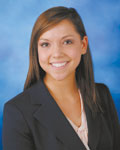 By Marie Ludgate, RD, LD
Hy-Vee Registered Dietician
(563) 332-8496 mludgate@hy-vee.com
For years, yogurt has been an iconic health food, and rightly so. Yogurt is an excellent source of protein, which not only helps build muscles, but also helps you feel full. Yogurt contains calcium, potassium and a variety of other vitamins and minerals to keep you healthy. Plus, there are those live and active cultures, known as probiotics, which maintain digestive health and give our immune systems an extra boost.
In the past 12 years, America's consumption of yogurt has doubled, and the evolution of Greek yogurt has played a large role in that trend. With this expansion of yogurt, the difference between the varieties is still Greek to customers. Here is what makes Greek yogurt different: Greek yogurt is strained to remove most of the liquid whey, lactose and sugar, making it thicker than traditional yogurts. As far as the nutritional differences, Greek yogurt can contain up to twice the protein, and is usually lower in carbohydrates.
Snack and breakfast times are the most common time yogurt is consumed. However yogurt can be easily included in other meals. The creamy texture of yogurt makes it a great substitute for the fat in most recipes. Try a few of these easy exchanges in your kitchen:
Instead of this: Try This: Calories Saved:
1 cup sour cream 1 cup yogurt 392
1 cup mayonnaise 1 cup yogurt 1334
1 cup cream cheese 1 cup yogurt 710
1 cup butter ? cup butter and ? cup yogurt 789
1 cup oil ? cup yogurt 1852
Use these simple swaps in a variety of recipes from baked goods to dips and salads; by doing so you'll easily cut a few hundred calories from your dish. Here are a few easy ways to use yogurt at mealtime:
• Use plain Greek yogurt instead of sour cream to top tacos, baked potatoes and chili.
• Try mixing two cups of Greek yogurt with a packet of dry ranch dressing for a quick veggie dip.
• Switch your milk and butter for yogurt next time you make mashed potatoes.
• Experiment with flavors too; replacing sour cream with lemon yogurt in a cherry or blueberry coffeecake makes a
• Cool off on hot summer days by serving fruit at meals with yogurt, in the form of a smoothie or parfait.
• Serve your salads with yogurt – like the following recipe.
Summer Fruit & Pasta Toss
Source: Midwest Dairy
Serves: 4
All you need:
8 oz. uncooked whole wheat spiral pasta
1? cups sliced strawberries
1 cup halved seedless grapes
1? cups cubed cantaloupe (about half a cantaloupe)
1? cups cubed pineapple (about half a pineapple)
1? cups (12 ounces) low-fat vanilla yogurt
All you do:
1. Cook pasta according to package instructions, drain and cool in refrigerator for 10 minutes.
2. While pasta is cooking, prepare fruit and place in large serving bowl.
3. Once pasta has cooled, add to bowl. Gently mix yogurt into pasta mixture.
4. Chill for 30 minutes in refrigerator before serving.
Nutrition Information per serving: 370 Calories, 2g Fat, 1g Saturated Fat, 5mg Cholesterol, 77mg Sodium, 80g Carbohydrate, 3g Dietary Fiber, 14g Protein, 21% Daily Value Calcium
This information is not intended as medical advice. Please consult a medical professional for individual advice.
Filed Under: Health & Wellness
Tags: Baked Potatoes, Butter Cup, Common Time, Creamy Texture, Cup Butter, Cup Cream Cheese, Cup Mayonnaise, Cup Oil, Cup Yogurt, Digestive Health, Greek Yogurt, Liquid Whey, Ludgate, Mealtime, Nutritional Differences, Oil Cup, Ranch Dressing, Veggie Dip, Vitamins And Minerals, Yogurts
Trackback URL: https://www.50pluslife.com/2013/04/30/go-greek-with-simple-solutions/trackback/