September 2, 2014
Paying it Forward with Pre-Planning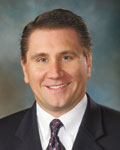 By David W. Deuth, CFSP
President, Weerts Funeral Home
A Grateful Son, Part II –
Continued from the August issue of 50+ Lifestyles
It was my turn to be shell-shocked when I answered the phone later that afternoon. My well-intended exchange of pleasantries was entirely mismatched to the conversation that would follow.
"Have they called you yet?" she asked with noted urgency.
Not at all certain where this was going or who "they" might be, my response was hesitant and stammered.
"Has, um….WHO…..called?"
"Oh, you haven't heard yet!" she exclaimed.
"Haven't….heard…what?"
My heart sank and my mind went numb as she told me that her brother, an avid bicyclist, had been out on a training ride and was struck by a vehicle….and that he had died as a result. Although we managed to schedule an appointment to meet the following morning, I don't recall anything else she said.
As I hung up the phone, my mind was swirling as I rewound to the conversation after his mother's funeral…to our recent meetings to complete his own pre-arrangements…to filing his information in the pre-arrangement file cabinet only hours earlier… and, of course, to the Christmas songs.
The next morning, as his family walked through the front doors of the funeral home for our meeting, we all shared a tearful embrace. Several things came full circle for me that day as we sat down to review his plans. I recalled with them my statement to him several weeks earlier – that the most beneficial thing about pre-arrangement is that the family could follow that person's wishes and not have to second-guess what they might have wanted. Holding up the file with his information, I assured them that I had complete and current information regarding his requests and preferences. "I know exactly what he wants," I said confidently, as I reviewed some of the details with them. Choking up, I sputtered, "I know it's August…but we're going to sing Christmas songs!"
Then I shared with them what I learned from him about his revised perspective on pre-arrangement after his mother's funeral: that the MOST beneficial thing is that the family need not labor over details and decisions but rather they could spend time being together and remember all the good things about him and his life and how he lived it. That was the gift that he realized his mother paid forward to him…and it was the gift that he wanted to pay forward to them. It was a very moving discussion.
His funeral service was very meaningful, too, and for any number of reasons. The thoughtfulness with which he prepared the details was evident. Scripture readings, flowers, the Christmas songs….even the casket. One detail he didn't plan, however, was a tribute from his cycling friends. Dozens of cyclists from the Quad Cities Bicycle Club not only attended his funeral in full cycling gear, they also pedaled the entire procession route from the church to the cemetery….right behind the funeral coach that carried his casket.
It wasn't until several days after his funeral that I realized I had learned something else from him. During a discussion with another gentleman who thought that he "wouldn't bother with any pre-planning now, because too many things might change before he died," I established a new standard in my own mind when I couldn't help but respond:
"Let me share with you why I've come to learn that people would do well to pre-plan as if their family needed it next week…"
I've had dozens of similar poignant conversations with others in the years since. And I'd like to think that I honor his memory each time I do so.
Remember Well.
I'd like to extend my sincere thanks and appreciation to the family for graciously allowing me to share this story that is so very personal to them.
David W. Deuth, CFSP, is a funeral director and is the owner of Weerts Funeral Home in Davenport and RiverBend Cremation and Quad Cities Pet Cremation Bettendorf.
He can be reached at (563) 424-7055 or by email at Dave@WeertsFH.com.