June 27, 2018
Ella's Kitchen
Satisfy your sweet tooth by grilling up some of these delicous treats.
Ella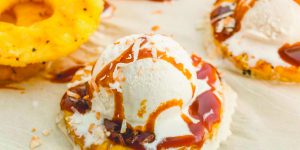 Grilled Pineapple Sundaes
YIELDS: 4
PREP TIME: 10 mins
TOTAL TIME: 10 mins
Ingredients
4 pineapple slices
4 scoops vanilla ice cream
Carmel, for drizzling
2 tbsp. sweetened shredded coconut, toasted
---
Directions
Heat grill to high. Grill pineapple until charred, 1 minute per side.
Top each pineapple slice with vanilla ice cream and drizzle with caramel. Top with shredded coconut and serve immediately.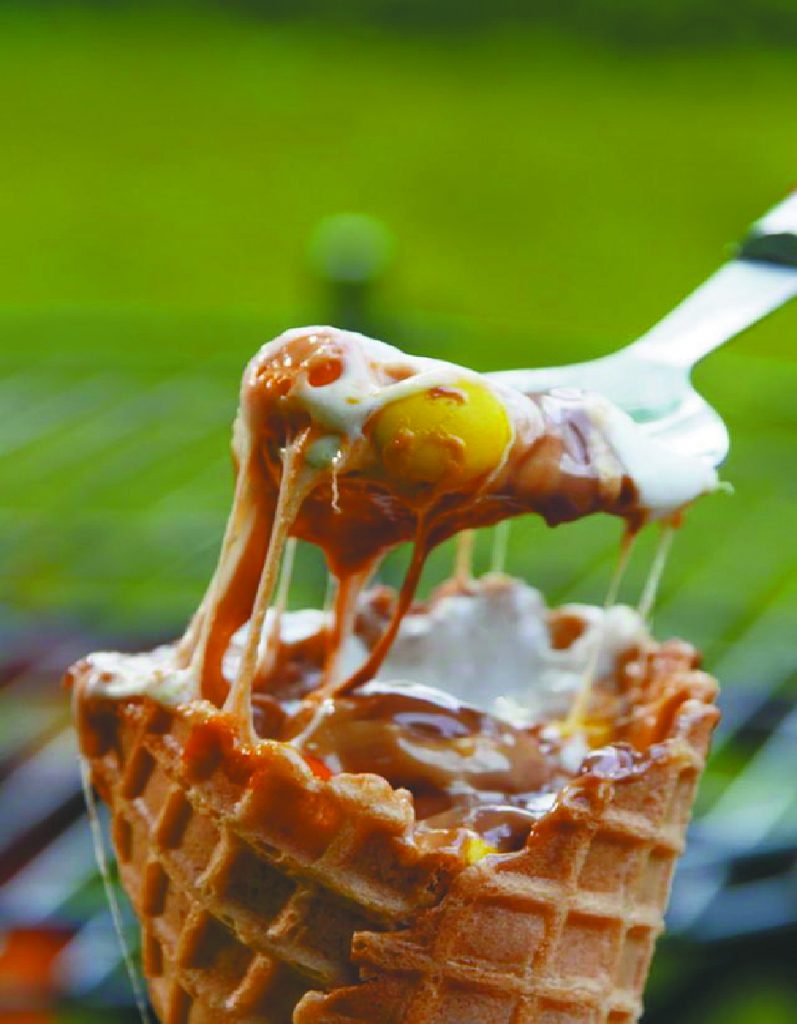 Reese's Cones
YIELDS: 6
PREP TIME: 10 mins
TOTAL TIME: 10 mins
Ingredients
6 waffle cones
mini marshmallows
Reese's miniature cups
Reese's pieces
peanut butter
---
Directions
Stuff cones with marshmallows, Reese's cups, Reese's pieces and peanut butter.
Wrap cones with foil and throw on the campfire until the candies are melted about 5 minutes.
Remove from heat and let rest until cool enough to handle.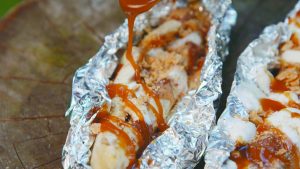 Rolo Stuffed Bananas
Ingredients
4 bananas, peeled
1 cup Chopped Rolos
1 c.upmini marshmallows
1/4 cup crushed graham crackers
Caramel, for drizzling
---
Directions
Make a crosswise slit in each banana, then stuff with Rolos and marshmallows.
Wrap bananas in foil then place over a campfire (or on a hot grill) and cook until the candy and marshmallows are melty and the bananas start to caramelize, 10 to 15 minutes.
Remove from heat and carefully unwrap foil. Sprinkle with crushed graham crackers and drizzle with caramel.
Serve warm.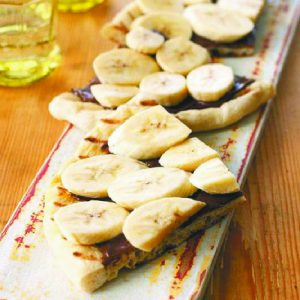 Chocolate, Hazelnut, and Banana Pizza
CAL/SERV: 500
YIELDS: 8
PREP TIME: 20 mins
COOK TIME: 6 mins
TOTAL TIME: 26 mins
Ingredients
1 lb. fresh pizza dough
1/2 c. chocolate-hazelnut spread (such as Nutella)
2 bananas
---
Directions
Prepare outdoor grill for covered, direct grilling on medium-low. Cut dough into 4 equal pieces. On one end of oiled cookie sheet, with fingertips, spread and flatten 1 piece of dough to about 1/8-inch thickness. (Edge does not need to be even.) On same cookie sheet, repeat with another piece of dough. Repeat with a second oiled cookie sheet and remaining dough. Place all 4 pieces of dough, oiled side down, on hot grill grate. Cook 2 to 3 minutes or until grill marks appear on underside (dough will stiffen and puff).
With tongs, turn crusts over, remove from grill, and place, grilled side up, on work surface. Divide chocolate-hazelnut spread among crusts; spread evenly, leaving 1/2-inch border, and return to hot grill grate. Cover grill and cook pizzas 3 to 4 minutes longer or until undersides are evenly browned and cooked through. Transfer to cutting board; arrange banana slices on tops of pizzas. Makes 8 servings.
[Ella can be contacted at ellaweeza@yahoo.com or Ella at 50+ Lifestyles, 804 W Lombard Street, Davenport, IA, 52804]