February 6, 2020
Ella's Kitchen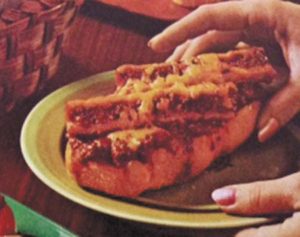 Tamale Hero Sandwiches
3 Hero buns (small baguette or foot-long hot dog buns can be used)
1/4 cup chopped green pepper
1 Tablespoon instant minced onion
1 (15-ounce) can chili with beans
1 (15-ounce) can tamales
3 ounces sharp natural Cheddar cheese, shredded (approx 3/4 cup)
---
Slice buns in half lengthwise. Toast. Add green pepper and onion to chili. Spread buns with chili mixture. Split tamales lengthwise and arrange on top of chili. Sprinkle with shredded cheese. Place under broiler for about 10 minutes or until cheese melts and sandwiches are heated. Makes 6 open-faced sandwiches.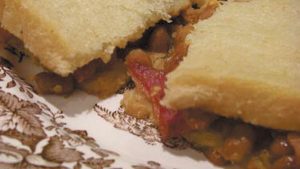 Boston Beanwich
Whole wheat bread
Canned baked beans in molasses sauce
Sliced sharp American or Cheddar cheese
Crisp bacon
Prepared mustard
Butter
---
Directions for one sandwich:
Figure the amount of your ingredients based on how many sandwiches you are preparing. Butter one slice of bread, turn over (buttered side will be on outside of sandwich) and spread 1/4 cup drained, canned baked beans. Crumble 2 slices crisp-cooked bacon over the beans. Top with the slice of cheese. Spread second slice of bread with prepared mustard and place on top, mustard side down. Butter the top of the sandwich.
Grill both sides of sandwiches until beans are hot through and cheese melts. Serve with sweet, dill or bread 'n butter pickles.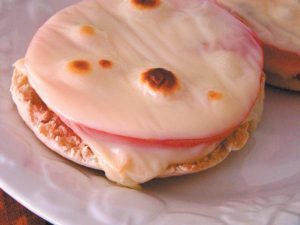 Open-Faced Double Cheese English Muffins
2 English muffins, halved and toasted
1 (3 ounce) package cream cheese, softened
4 slices of tomato
4 slices of Canadian bacon (luncheon ham or bologna can be substituted)
Dash each of garlic salt, pepper, instant minced onion and dried, crushed oregano
4 slices Swiss cheese (really, any type of sliced cheese will do)
---
Spread muffin halves evenly with the cream cheese; place in baking pan. Top each with tomato slice and meat slice. Combine seasonings and sprinkle over meat. Cover with foil and bake in moderate oven (350 – 375 degrees) for 20 minutes. Uncover and top with cheese slices. Return to oven, uncovered, for 2 to 3 minutes or until Cheese is melted. Makes 4 servings.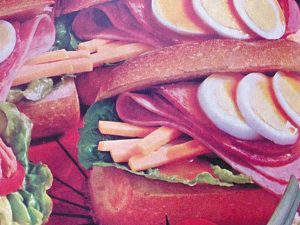 Chef's Salad in a Roll
4 French rolls
Romaine lettuce, 8 to 12 large leaves, washed
4 ounces sharp process American cheese, cut in julienne strips
4 slices pressed ham
4 slices salami
4 slices turkey
2 hard-boiled eggs, sliced
French salad dressing
---
Split rolls lengthwise, cutting to but not through the crust. For each sandwich, cover the bottom half of roll with the Romaine, 2 to 3 leaves for each sandwich. Then add cheese, meat slices that have been folded over. Now topped with egg slices. Drizzle a tablespoon of French dressing on top. Secure with wooden picks, if needed. Makes 4 servings.
[Ella can be contacted at ellaweeza@yahoo.com or Ella at 50+ Lifestyles, 804 W Lombard Street, Davenport, IA, 52804]