October 1, 2020
Ella's Kitchen
For October I have chosen a microwaveable option to a snack favorite, a new twist to the snack and an unusual hearty soup.
If you are a fan of hot German salad, you will love this thick soup with the odd name of Dill Pickle Soup.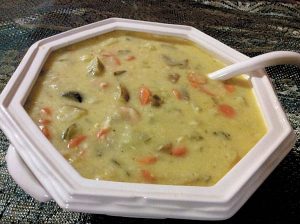 Dill Pickle Soup
(I am sharing the recipe as it was sent to me but have my changes in parentheses.)
5 1/2 cups chicken broth
( I used six cups since that was what was in the container)
1 3/4 pounds russet potatoes, peeled and quartered
(I used six medium sized potatoes that I scrubbed rather than peeled. I cut in cubes, about 10 to 12 per potato)
2 cups chopped carrots, smaller dice (my carrots were long & slim, so I just sliced crosswise making small circles. I used 3 carrots)
1 cup chopped dill pickles, smaller dice – about 3 whole large dills. ( I chopped up a few dill stackers that were left in one jar and 4 large dill spears from another jar that I had.)
1/2 cup unsalted butter
1 cup sour cream
1/4 cup water
2 cups dill pickle juice
1 1/2 teaspoons Old Bay seasoning
(substitute recipe shared on this page)
1/2 teaspoon table salt ( used coarse ground sea salt)
1/2 teaspoon coarsely ground pepper
1/4 teaspoon cayenne pepper
Optional garnishes: dill pickle slices, fresh dill,
fresh parsley, black pepper, bacon bits.
---
In a large pot, combine broth, potatoes, carrots and butter. Bring to a boil and cook until the potatoes are tender. Add pickles and continue to boil. In a medium bowl, stir together the flour, sour cream and water, making a paste. Vigorously whisk sour cream mixture, two Tablespoons at a time, into soup. This whisking motion will break up some of the potatoes. Not to worry.
Add pickle juice, Old Bay seasoning, salt, pepper and cayenne pepper. Cook five minutes more. Remove from heat and serve immediately. (I reheated a small portion for me the next day. I added just a little bit of water as I heated it. I would not recommend freezing as the soup would separate. The flavor and quality would be okay but the appearance wouldn't be the same.)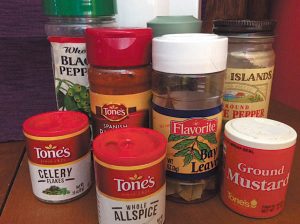 Old Bay Seasoning Recipe
1 teaspoon celery salt
(I used celery seed)
1/4 teaspoon paprika
1/4 teaspoon coarse ground black pepper (I used black pepper corns)
1/8 teaspoon cayenne pepper
1/8 teaspoon ground dry mustard, or mustard seed.
1/4 teaspoon ground allspice (I used allspice berries)
1/8 teaspoon ground cloves (I used whole cloves)
1 bay leaf crushed or ground
---
Mix together and you have Old Bay Seasoning. This will make more than you need for the Dill Soup recipe. Put remainder in air tight container or little plastic baggie. Use in soups, meat dishes or homemade salad dressing.( I have a coffee grinder that I use only for grinding spices, so I often grind different combinations of spices together.)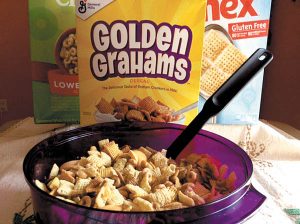 Sweet Tooth Chex Mix
---
In a large microwaveable bowl, mix together
2 cups each: Rice Chex, Wheat Chex,
Corn Chex, Golden Grahams cereal, Apple Cinnamon Cheerios and peanuts.
1 cup Vanilla wafer pieces. Set aside
In a small microwaveable bowl melt 1 stick butter. Then add the following:
2 Tablespoons Caramel Syrup (I use the syrup that is used for flavoring coffee)
1 teaspoon sesame seeds
1/2 teaspoon crushed anise seed.
Pour this melted mixture over the cereal mixture, coating evenly.
Now microwave uncovered for 4 to 5 minutes, stirring at 45
second or 1 minute intervals. Cool and store in airtight containers.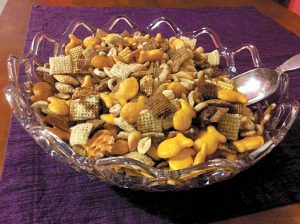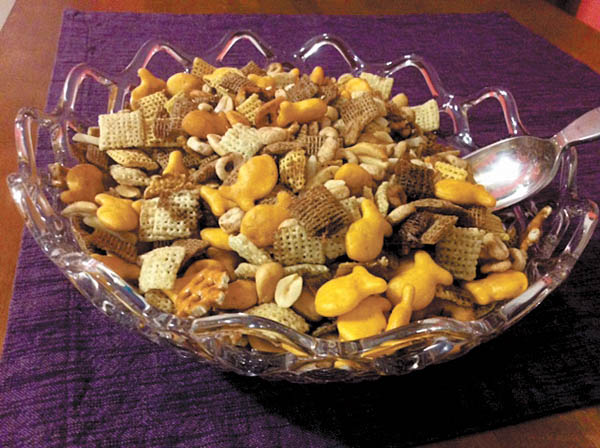 Microwave Chex Mix
2 cups Corn Chex cereal
2 cups Rice Chex cereal
2 cups Wheat Chex cereal
2 cups Cheerios cereal
2 cups Goldfish cracker snack
1 cup pretzel pieces
1 cup peanuts
1 cup slivered almonds
8 Tablespoons butter, that's 1 stick
2 Tablespoons Worcestershire sauce
1 teaspoon dried minced garlic
1/4 teaspoon dried parsley
1/4 teaspoon dried chives
---
In a large microwaveable bowl, mix together the cereals, Goldfish, pretzels and nuts. Set aside.
In a small microwaveable bowl heat butter on high for 40 seconds (I did 20 seconds, stirred, then the additional 20 seconds)
Stir in Worcestershire sauce and seasonings. Pour over cereal
mixture stirring the mixture so that it is evenly coated.
Microwave uncovered on high for 5 to 6 minutes. Thoroughly stir about every minute. Spread out to cool. Store in airtight containers.
[Ella can be contacted at ellaweeza@yahoo.com or Ella at 50+ Lifestyles, 804 W Lombard Street, Davenport, IA, 52804]