January 3, 2013
Cut Calories with Cauliflower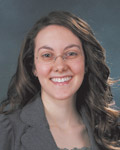 By Chrissy Watters, MS, RD, LDN
Hy-Vee Registered Dietician
(309) 793-0684
cwatters@hy-vee.com
If your resolution involves enjoying a happier, healthier new year, consider the benefits of adding fiber-filled fruits and vegetables, like cauliflower, to your meals and snacks. Cauliflower is a nutritional powerhouse that contains eight grams of fiber in every 100 calories. Getting creative with cauliflower is easy with the variety of colors and serving suggestions available for this versatile vegetable.
Including fiber-rich foods in your diet is important for healthy weight maintenance. Fiber helps to provide a feeling of fullness and satisfaction, curbing our appetite and preventing mindless munching. The Academy of Nutrition and Dietetics recommends that Americans consume 25 to 35 grams of fiber daily as part of a healthy diet. Fresh fruits and vegetables are low-calorie sources of dietary fiber. To promote healthy weight, follow the healthy plate method and fill half your plate with non-starchy vegetables, like cauliflower.
Low in calories, but rich in nutrients, cauliflower is an excellent source of vitamin C, vitamin K, and folate, and is a good source of potassium, B vitamins, magnesium and fiber. This winter vegetable comes with endless cooking options that help you reap its nutritional benefits on a regular basis. Explore the power of cauliflower with these easy serving suggestions:
• Raw florets with non-fat Greek yogurt dip for a healthful snack
• Puree cooked cauliflower, add your favorite herbs and spices and serve as soup
• Sauté in a low-sodium broth
• Steam and mash as an alternative to mashed potatoes
• Include in side dishes, salads, stews and main dishes
Cauliflower and Couscous Pilaf
Serves: 6 (about 3/4 cup each)
Source: wwww.eatingwell.com
All you need:
1 tablespoon extra-virgin olive oil
4 cups finely chopped cauliflower florets (about 1 medium head)
? teaspoon salt
? cup reduced-sodium chicken broth
1 teaspoon freshly grated orange zest
? cup orange juice
? cup currants
2/3 cup whole-wheat couscous
? cup sliced scallion greens
All you do:
Heat oil in a large saucepan over medium heat. Add cauliflower and salt; cook, stirring, until softened, about 3 minutes. Add broth, orange zest, juice and currants; bring to a boil over high heat. Stir in couscous and scallions. Remove from heat and let stand, covered, until the liquid is absorbed, about 5 minutes. Fluff with a fork.
Nutrition per serving: 163 calories, 3 g fat, 0 g saturated fat, 0 trans fat,
1 mg cholesterol, 239 mg sodium, 31 g carbohydrate, 6 g fiber, 6 g protein.
This information is not intended as medical advice. Please consult a medical professional for individual advice.
Filed Under: Health & Wellness
Tags: Calorie Sources, Cauliflower Florets, Extra Virgin Olive Oil, Favorite Herbs, Fiber Rich Foods, Fresh Fruits And Vegetables, Fruits And Vegetables, Good Source Of Potassium, Herbs And Spices, Low Sodium, Medium Head, Non Starchy Vegetables, Nutrition And Dietetics, Nutritional Powerhouse, Sodium Chicken Broth, Sources Of Dietary Fiber, Teaspoon Salt, Versatile Vegetable, Virgin Olive Oil, Winter Vegetable
Trackback URL: https://www.50pluslife.com/2013/01/03/cut-calories-with-cauliflower/trackback/